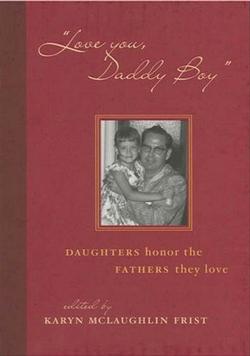 If there's an unwritten rule that there's a special bond between fathers and daughters, then this collection of personal essays might be the new doctrine. Karyn McLaughlin Frist—wife of outgoing Senate majority leader Bill Frist—joins an impressive list of famous daughters, as well as daughters of the famous, to tell heartwarming stories about the men who raised them. Frist's father used to write her every Monday while she was in college, signing his letters, "Love you, Daddy Boy."
The 73 other contributors include Nancy Reagan, Hillary Rodham Clinton, Condoleezza Rice, Dianne Feinstein, Margaret Thatcher, Elizabeth Dole, actress Bo Derek, and singer Amy Grant. Each has her own way of expressing the important role her father played. Don't be surprised if you shed a tear or two when reading these graceful tributes.
ABC News and NPR commentator Cokie Roberts writes eloquently about her father, former House majority leader Hale Boggs: "Fathers are the first men most women encounter. How they treat you can shape your relationships with men for the rest of your life. . . . My father treated me always in the best way possible—he treated me as an equal."
Singer Rosanne Cash reminisces about life with country-music legend Johnny Cash: "On the bus one day, struggling with my new guitar skills (or lack thereof), he watched me for a few moments and then sat down and wrote a list of songs for me. In bold letters across the top of the page, he scrawled '100 Essential Country Songs.' He handed me the list and told me that I needed to learn all these songs to complete my education. . . . I looked to the list as a standard of excellence, and to remind myself of the tradition of which I was part."
The final chapter has been left blank for daughters to add their own photographs and stories, making this collection a fabulous present and wonderful coffee-table book for a family.
As a daddy's girl myself, I immediately related to these women's tales and the lessons they learned. I was surprised by how much I had in common with women such as former first lady Barbara Bush and Ruth Bell Graham, wife of evangelist Billy Graham. We all call our fathers Daddy—something my twentysomething friends still tease me about. Karyn Frist thinks of the man in the moon as her dad, and like her, I'm aware that I'm a very lucky daughter.
Author:
edited by Karyn McLaughlin Frist
Publisher:
Taylor Trade Publishing
Price:
$19.95