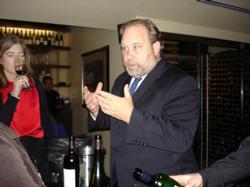 The free wine tastings sommelier Doug Mohr holds every Tuesday night at Vidalia's bar are often packed. There have been lines for his pours of featured wine flights, and every seat at the bar, where chef R.J. Cooper lays out complimentary Southern-style canapes, is usually taken. But Mohr and owner Jeff Buben have good news for oenophiles: they'll now hold the gratis tastings every night of the workweek.
"Some folks have been here every Tuesday since we started this a year ago," Mohr says. "It's a great mix, some people who really know wines, some novices, some who just want to learn more." Last night, the generous spread of free nibbles included house-made charcuterie and pates, pimento cheese with crackers, and miniature BLTs. Cooper often pops into the bar area during happy hour, chatting up the crowd with the always-affable Mohr.
Tuesdays will continue to feature wine flights based around a theme. Last night's three selections came from French winemaker Jean-Luc Colombo. On Mondays, Mohr will "brown bag" three or four wines for a blind tasting. On Wednesdays, the theme is "Where can I find this wine?"–a distributor, importer or winery rep will be on hand to talk about how to find Vidalia's selections at retail stores. On Thursdays, guests are invited to play sommelier and taste potential additions to the wine list, then hear about how Mohr determines whether or not a wine will make it onto the list. To close out the week, Friday tastings will feature three or four wines from Vidalia's impressive happy hour by-the-glass list—"20 Under $7 Before 7". If you make it a Friday evening habit, you'll eventually taste all 20 wines free of charge.
Vidalia, 1990 M St., NW; 202-659-1990; vidaliadc.com. Free wine tastings are Monday through Friday from 5 to 7 PM.