A Charlottesville pastry chef we know raved about a Dutch-style Gouda made by nuns at Our Lady of the Angels, a Cistercian monastery near the Blue Ridge Mountains. We tried it and agree it's terrific—a great snacking cheese by itself or on crackers (from fancy ones to good old Ritz). To order, send a letter—the old-fashioned way, on paper—and a check for $27 to Monastery Country Cheese, 3365 Monastery Dr., Crozet, VA 22932. You or your loved one will receive a two-pound, red-waxed round in about a week or on another date you specify.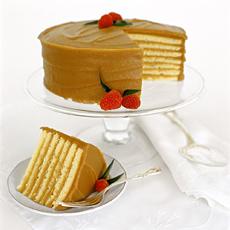 Baker Caroline Ragsdale Reutter grew up in the city of heavenly layer cakes, aka Charleston, South Carolina. So it's no surprise that the cake she's best known for—a seven-layer caramel confection—tastes as though it came straight from a Southern dessert buffet. Reutter ships that and a variety of other cakes—we also like coconut cloud and Southern chocolate—from her Annapolis headquarters, Caroline's Cakes (888-801-2253; carolinescakes.com; all cakes $39.50). Stored in the freezer, the nine-inch cakes can be enjoyed for months.
If you're giving chocolate as a gift, make it worth every calorie. Chocolaterie Wanders (866-792-6337; chocolateriewanders.com) is the area's newest chocolate maker. Confections, handmade in small batches in Manassas, are so fresh they're best eaten within two weeks—and trust us, that won't be a problem. An assortment—with such flavors as Earl Grey, raspberry, and cinnamon—is $14.95 for a quarter pound, $24.95 for a half pound, plus shipping.