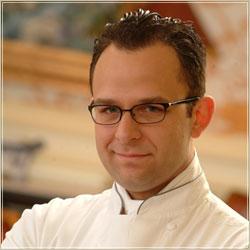 Dynamic television personality Emeril Lagasse finishes every cooking demo with his signature "Bam!" Rachael Ray's partial to shouting "Yum-o!" with every stir of her wooden spoon. And though he may not be a television celebrity —at least not yet — Maestro chef and recent cookbook author Fabio Trabocchi is campaigning for his own signature sound effect: "Mmmm."Yup, that's right, just your average "Mmmm." Definitely not the most original, or thrilling, trademark sound. Campbell's soup made "Mmm, mmm good" a thing, but even that had more bite.

At a recent cooking demo at Dupont Circle's FreshFarm market, Trabocchi went public with his love for the "Mmmm." He turned his market audience into a moaning chorus. Trabocchi was there to demonstrate recipes from his new cookbook, La Cucina of Le Marche, which explores the lesser-known cuisine of his home region of Italy. He served up warm samples of Le Marche-style risotto and chestnut soup, and emphatically ordered everyone to "Mmmm" along. Before long, the Dupont Market crowd was a harmonizing jam session, with a fetching Trabocchi — television-quality fetching—as conductor.

When did he become so fixated on the sound? When he started feeding his baby daughter, now five, solid foods. Daddy Trabocchi belted out an "Mmm" every time the spoon hit her little mouth. "It's a happy food kind of sound…and it can find its way into situations outside the kitchen," says an enigmatic Trabocchi. " I'll let the imagination take care of that."
Fabio calls it "a way of pre-advertising" how delicious the food will be. To an observer of the market spectacle, it was like watching a young Emeril experiment with "Bam!" Though Trabocchi has no Food Network deals lined up, he might be pushing for a more interactive stage presence. And after his national cookbook release, Food and Wine's "Best New Chef in America" nod back in 2002, and Maestro's RAMMY award for best restaurant this past summer, maybe sound-branding is the next logical step. Because in this era of food-porn and wall-less kitchens, a chef's theatrical presence and sex appeal can be just as vital as the food.