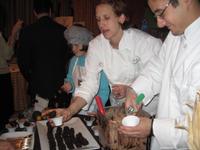 What: Life is Sweet 2 Pastry Showcase, a fundraiser for Best Buddies Virginia, which helps developmentally disabled teens and adults form lasting friendships with volunteer "buddies." Last night though, several lucky members of the Virginia chapter got to pair up with a bonus buddy—one of the area's top pastry chefs–and help make and pass out desserts.
Where: The Four Seasons Hotel in Georgetown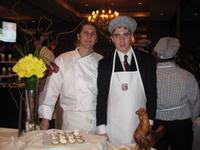 Who: The lower level of the Four Seasons hotel filled quickly with pastry chefs and their buddies, proud families and friends, and guests who shelled out $90 to support a good cause and fill up on tasty desserts. Former White House pastry chef Roland Mesnier chaired the gala, News 4's Barbara Harrison played emcee. Participating chefs included pastry chefs such as 1789's Zoe Behrens, PS7's Naomi Gallego, Passion Food Group's David Guas, Willow's Kate Jansen, and the Four Seasons's Romain Renard and even a few regular chefs: Cathal Armstrong of Restaurant Eve, Patrick Bazin of Bazin's on Church, Jacques Haeringer of L'Auberge Chez Francois, Jonathan Krinn of 2941), and Michel Richard of Citronelle.
Scene: After an hour of cocktails and a few savory nibbles (buffets of cheese and crackers and passed hors d'oeuvres), Harrison introduced each chef, buddy chef, and the featured dessert of each team to the tune of a three-piece band. Guests wandered around in awe, sampling from each pastry station and chatting with the enthusiastic buddies—many of whom confidently informed guests that their dessert and their chef were the best of the bunch. Pretty pink boxes—for guests to fill up with pastries for later sold for $10. A live auction boasted lavish prizes including a dinner and cooking demo for two with Roland Mesnier at the White House.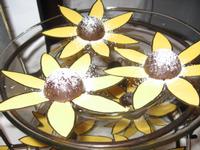 Food: Zoe Behrens's mini-brownie sundaes seemed to be the crowd favorite of the night. Other highlights among the twenty-some, mostly bite-size desserts included chocolate-hazelnut banana bombs from Equinox's Megan Steward, rich "pecan divinity" cookies and puff-pastry-wrapped chocolate bon bons from Vidalia's Caitlin Kelly, and passion fruit ravioli from Romain Renard.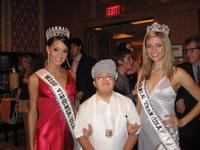 Kodak moment: Ecstatic buddy chefs posing with Miss Virginia and Miss Teen Virginia.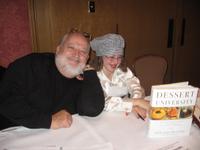 Puzzling moment: Michel Richard was the only chef who did not prepare a dessert—he and his buddy sold signed copies of his new cookbook instead.