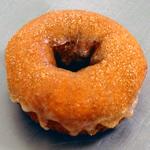 Dupont Circle's new outpost of the Fractured Prune, an Ocean City, Maryland-based donut chain, is sure to give the nearby Krispy Kreme a run for its money. No need to wait for a "hot" sign to light up—these yellow cake donuts are fried to order and topped with your choice of glaze and toppings. The shop officially opens on Saturday, but on Friday from 4 to 8 pm, they're holding an "open house" with free coffee and donuts—any kind you want.
Specialty donuts include everything from breakfast-inspired combos like banana glaze topped with nuts and cinnamon to full-fledged desserts like a take on a Reese's peanut butter cup that's loaded with peanut butter glaze and mini chocolate chips. With 15 glazes and 10 toppings to choose from, you can get pretty creative. Co-owner Tony Ventouris remembers a guy at the Lusby, Maryland shop who requested a donut topped with maple glaze and bacon. Bacon's not featured on the donut topping list, but Ventouris was able to create the donut—there's bacon on hand for the bagel sandwiches on Fractured Prune's menu. He'll do his best to satisfy your wacky craving, too.
The Fractured Prune, 2153 P St., NW; 202-822-0880; fracturedprune.com. Open daily 7 AM to 10 PM. Donuts are 95 cents each.