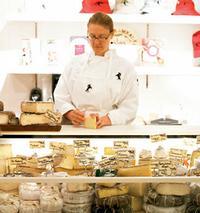 Only four days 'til Christmas: Don't panic. Give the gift of cheese. Who wouldn't want a wedge of creamy Irish cashel blue to nibble on between the wassail and egg nog? We're partial to the Cowgirl Creamery's Chesapeake Collection, a lineup of artisanal cheeses from Maryland and Virginia including: Firefly Farms' ash-covered pyramid of Mountain Top Blue goat cheese; the mellow Chapelle, a natural rind cow's milk cheese, from Chapel's Country Creamery; Piedmont, Everona Farms' nutty aged sheep's milk cheese; and the semi-soft Appalachian from Meadow Creek Dairy.
Another fav: The Dessert Collection, an array of mild, creamy, sweet, and pungent cheeses that mate well with champagne or Port, put together by Del Ray's Cheesetique. These might include the rich Chaource, a double cream cheese made in the Champagne region of France and, not surprisingly, fabulous with bubbly; a crumbly but creamy English Stilton shot through with fresh mango and ginger; and the raw milk Berkshire Blue, a triple cream handmade in Massachusetts.
Both shops have accoutrements to wrap up the deal: crackers, cheese-friendly condiments, and pails, baskets, boxes, and bags. Call ahead and have the shop put together a gift or hunt and gather yourself. Who knows? You may be able to make short work of that Christmas list and head for a little nog yourself.
Cowgirl Creamery, 919 F St., NW; 202-393-6880; cowgirlcreamery.com.
Cheesetique, 2403 Mt. Vernon Ave., Alexandria; 703-706-5300; cheesetique.com.