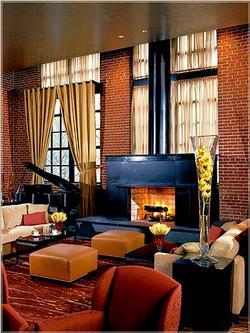 With exposed brick walls, caramel leather settees, and an elegant black framed fireplace, the Degrees lobby lounge at Georgetown's boutique Ritz Carlton has the feel of a living room — a really cool living room. Though the hotel's high-energy Degrees cocktail bar gets most of the press, it's the lounge in the lobby that has quietly become the all-day gathering spot for in-the-know urbanites.
There, you can read Orhan Pamuk's Istanbul over a bowl of mixed nuts (very sixties), and a G Funk (Ketel One Citroen with grapefruit juice and simple syrup, $12.50) — food and drink can be had from 2:30 to 11 PM weekdays and until 1 AM on weekends. The scene is fluid: A couple sits close in a deep couch sharing the aptly named dynamite sticks ($15), tuna tartare in a crisp cylinder to swipe in ginger soy sauce. A mother and daughter at a table by one of the oversized paned windows sip ceylon yalta and ooh and ahh over a gooey chocolate caramel tart with dulce de leche ice cream ($9). An artsy group toasts the birthday boy with Pilsner Urquell ($6.25). Sometimes, a pianist lends a jazzy note to the proceedings. But mostly it's the very quiet hum of conversation that gives the place its character. You might even start believing you've won the lottery if it weren't for the white gloved attendant who every so often slides open the screen and gives that crackling fire a good poke.
Degrees Lounge at the Ritz-Carlton, 3100 South St., NW; 202-912-4111; Ritzcarlton.com.