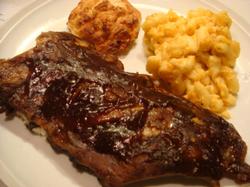 At Long Last: Construction, public works, and utility delays plagued the opening of Chesapeake Chicken & Rockin' Ribs in Bethesda (the original in Grasonville, Maryland is a must stop for hordes of Eastern Shore and Delaware beachgoers). But the rotisserie chicken and rib restaurant finally debuted at lunchtime Friday.
When I stopped in this past Saturday, it was hard to know where to look. At the ceramic chickens and Stonewall Kitchen jams in the barnyard-themed gift shop? Or at the plates of food on the grass-green tables at this order-at-the-counter, family-run eatery where the fixings are fast but don't taste that way. Ultimately the food won out (it always does) and I came home with two full shopping bags.
But after a forkful of this and a spoonful of that, I knew I'd be facing another dilemma: What to get next time? Robust chicken soup thick with wide egg noodles? Chicken salad on a cornmeal-dusted kaiser roll? Meaty pork ribs? Falling-off-the bone roast chicken? How about those sides: crunchy broccoli salad with blue cheese and mayo, molten mac 'n cheese, stuffing with a spill of chicken gravy? And who knew that a chicken and rib stop would have one of the best chocolate chip cookies in the area (the oatmeal raisin are pretty good too)?
I can hardly wait to go back. But this time, I'll think I'll have to bring the cooler.
Entrees, $3.95 to $17.95.
Chesapeake Chicken & Rockin' Ribs, 7007 Wisconsin Ave., Bethesda; 301-656-7634.