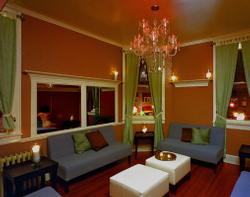 So you want to go out to dinner and you've put off making a res? Give Opentable.com a quick scan (we just found primetime tables at Bistro Bis, Charlie Palmer Steak, Ceiba, Cafe 15, Equinox, Kinkead's, Sushi-Ko…). If you've got your heart set on a hard-to-get-into restaurant, call them asap today. Maybe there are cancellations due to the snow (or yikes, a break-up).
Take your chances as a walk-in.
Plenty of booked dining rooms are keeping their bars and lounges straggler-friendly. At PS7's in Penn Quarter, you can forgo the set prix fixe menu in the dining room and order chef Peter Smith's regular dishes. You can also pluck from the bar menu at the plush, cozy lounge at Restaurant Eve in Old Town. The no-reservations EatBar, the recently converted lounge next to Tallula in Lyon Park, is very date-friendly. It's filled with candles and couches, there are over 70 wines by the glass (plus such yummy cocktails as the Moscow Mule, made with vodka, ginger beer, and lime), and you can share plates like Fanny Bay oysters on the half-shell and bacon-wrapped figs.
Make it about the drinks.
PX, Todd Thrasher's swank Old Town speakeasy, still has a couple reservations left for tonight (make one by calling Eamonn's at 703-299-8384 and asking for "the PX"). The upside? Killer cocktails in a romantic, deco-inspired space. The downside? You have to order an $18 box of chocolate truffles on top of everything. Or, sidle up to a hotel bar–the Degrees Lounge at the Georgetown Ritz, the bar at the Topaz Hotel, and the bar at the Georgetown Four Seasons come to mind–for a couple Champagne cocktails.
Pick up something on the way home.
A few ideas: Nantucket bay scallops (saute them in butter, shallots and white wine and toss them with parsley), a bag of fondue cheeses from Cowgirl Creamery, some charcuterie, frozen pasta, and filled-to-order cannoli from Cornucopia in Bethesda, or D'Artagnan duck confit from Wegmans or Dean & DeLuca–and stay snowbound inside. If you're looking for a bottle of Champagne, you can find wine columnist Don Rockwell's small-grower Champagne recommendations here and the results of our recent sommeliers' Champagne taste test here.