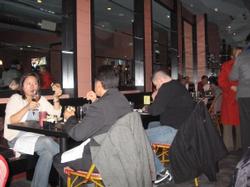 Jack's Restaurant and Bar opened this past January, almost immediately following the closing of its short-lived predecessor, Le Pigalle. That ill-fated French spot was almost always near empty, even when wait times were lengthy at neighbors like Sushi Taro and Hank's Oyster Bar. Jack's, with a redesigned space and a menu of American fare, is already drawing bigger crowds.
Although pretty much anything would have been an improvement over Pigalle's stark-white interior and cheap-looking red chairs, a fresh coat of paint, low lighting, and cozy banquettes gives Jack's a much more inviting feel. Weekday happy hour specials from 4 to 7 PM offer more than bargain drinks—Mondays bring free bar snacks like meatballs, nachos and baked brie; Wednesdays mean $3 margaritas and half-price burgers are served all night.
On a recent visit, we snagged the last empty table-for-four and sampled from the dinner menu. It's a hodgepodge of sharing-size appetizers (crab-and-spinach dip; fried calamari), salads, burgers, pastas, and more ambitious entrees (duck confit with tarragon; braised lamb shank with risotto).
Service was painfully slow—it took 40 minutes for any food to arrive, in which time we polished off the entire bread basket. However, our waitress was so sweet that spirits remained high. When our dishes finally came, it was clear that kinks still need to be worked out in the kitchen too. The more simple dishes worked, but weren't extremely memorable. A goat cheese salad was fresh and dressed with just enough warm balsamic vinaigrette. The hefty Jack's cheeseburger was juicy, though it came medium despite my friend's request for medium-rare. Still, I'd be happy to order it for half-price on Wednesdays.
The "homemade" seafood stew offered four mussels, two shrimp, half a scallop and a few dry chunks of tuna. Though the tomato-based broth was flavorful, it was thin and could not rescue the tasteless seafood. Crab cakes were better, loaded with sweet meat, but it was mostly in strands rather than lumps. "Menu designed by Chef Herbert Kerschbaumer from Switzerland" is printed at the bottom of the oversized page. But the chef—who previously cooked at the Mayflower Hotel and the defunct Bistro Bernoise—doesn't draw from his Swiss roots much on this menu, aside from the gruyere cheese on the burger and an option of rosti potatoes with some entrees. The other choice is French fries–they were crispy and hot but nothing special. In a few weeks, once the place has some time to settle in, I'll come back and try the Swiss-style spuds.
Jack's Restaurant and Bar, 1527 17th St. NW; 202-332-6767.