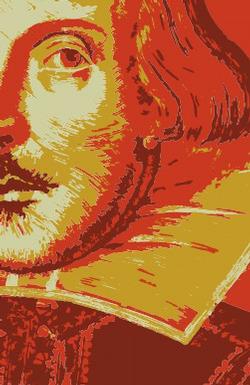 By Rebecca Shillenn
With more than 70 participating groups at nearly 50 venues, the six-month Shakespeare in Washington festival can be a lot to take in. Here are some of the most interesting events left to see. (Toy ninjas doing Hamlet, anyone?)

Reinventing the Globe: A Shakespearean Theater for the 21st Century, National Building Museum (401 F St., NW; (202) 272-2448; nbm.org), through August 27; free.
Take a break from watching the plays and see how people have viewed Shakespeare's works throughout the centuries. This exhibition tracks Shakespearean theaters of all styles and sizes, from England's famed Globe to proposed models for the 21st century, including such out-there ideas as "transparent" theaters.
A Midsummer Night's Dream, Kennedy Center Opera House (2700 F St., NW; (202) 467-4600; kennnedy-center.org), February 28 through March 4; $29 to $99.
The New York City Ballet has performed choreographer George Balanchine's version of A Midsummer Night's Dream—Shakespeare's comedy of love, magic, and misadventure—for 45 years. The score is by Felix Mendelssohn, and the costumes are just as fanciful as the story.
Read on behind the cut for more of our picks.
National Symphony Orchestra Shakespeare Concert, Kennedy Center Concert Hall (2700 F St., NW; (202) 467-4600; kennnedy-center.org), April 19 through 21; $20 to 80.
The NSO, under conductor Jiri Belohlavek, performs music inspired by some of Shakespeare's most famous works, including Othello and Richard III; the composers include Mozart and Dvorak.
Shakespeare's Birthday Open House, Folger Shakespeare Library (201 E. Capitol St., SE; (202) 544-4600; folger.edu), April 29, noon to 4; free admission, food for sale.
This annual celebration includes dancers, jugglers, music from Shakespeare's time, and more. Workshops on stage combat and acting, and birthday cake for all—though it's expected to run out quickly.
Dancing Henry Five, Clarice Smith Performing Arts Center (University of Maryland; (301) 405-2787; claricesmithcenter.umd.edu), May 11 and 12; $30.
This version of Henry V is performed by a small group of dancers who each play more than one role and sport nontraditional costumes such as rugby uniforms. Instead of a full script, directors David and Ain Gordon have chosen snippets of Shakespeare's words and film recordings. It has more action and mystery than a classical staging and is only an hour long.
Macbeth, Washington National Opera, Kennedy Center Opera House (2700 F St., NW; (202) 295-2400 www.dc-opera.org), May 12 through June 2; $50-$250.
Verdi's version of Macbeth is more than 160 years old and one of the festival's most popular events; Georgian baritone Lado Ataneli sings the part of Macbeth; Italian soprano Paoletta Marrocu plays his conniving wife. The opera is in Italian with English supertitles.
Shakespeare in Song, Voce Chamber Singers ((703) 277-7772; voce.org), St. John Neumann Church (11900 Lawyers Rd., Reston), May 12; $5-$25.
An a cappella concert with words from Shakespeare's texts set to music ranging from dirges to dance beats. A local actor will recite from the plays. A free wine-and-cheese reception follows the performance.
Hamlet . . . The Rest Is Silence, Synetic Theater performing at the Kennedy Center Family Theatre (2700 F St., NW; 202-467-4600; kennedy-center.org), May 31 through June 17; $30.
Arlington's Synetic Theater won three Helen Hayes Awards for this wordless version of Hamlet. The actors use only choreography and setting to convey the complex tale.
Hamlet and Shakespeare's Sonnets, Tiny Ninja Theater, Kennedy Center Millennium Stage (2700 F St., NW; 202-467-4600; kennedy-center.org), June 11 through 14; free.
Yes, another version of Hamlet—but not just any version. This show is "performed" by plastic vending-machine ninja toys no more than a few inches tall. Television screens will show the miniature drama onstage, so no one will miss out on the wacky fun.