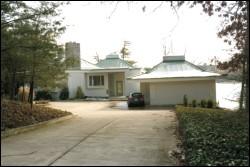 In Virginia: Former telecommunications executive William L. Collins III bought a five-bedroom, six-bathroom, chalet-style townhouse on Fairway Oaks Square in Leesburg for $1.5 million. Overlooking the Potomac River and a golf course, the 5,000-square-foot house has a media room and three-level sunroom. From 1996 to 2003, Collins was president of Metrocall, an Alexandria-based paging company that merged with Arch Wireless in 2004. He led the bid to bring Major League Baseball to Northern Virginia.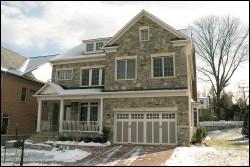 In DC: Journalist Daniel Klaidman and his wife, Monica Selter, sold a five-bedroom, four-bathroom Colonial on Arizona Terrace in DC's Kent neighborhood for $975,000. Klaidman, Newsweek's former Washington bureau chief, recently was named the magazine's managing editor.
Former senator Bill Brock and his wife, Sandy, bought a two-bedroom, three-bathroom condo on Water Street in Georgetown for its list price of $1.5 million. The glass-and-brick building resembles a turn-of-the-century industrial loft and sports a rooftop pool with views of the Potomac and Virginia's skyline. Brock served as a Tennessee senator in the 1970s and was secretary of Labor from 1985 to 1987. After leaving government, he founded Bridges Learning Systems, an education-services company.
Former PBS president Pat Mitchell and her husband, businessman Scott Seydel, sold a six-bedroom, five-bathroom home on 49th Street in Wesley Heights for $1.9 million. The house backs to Battery Kemble Park and has a heated pool, three wet bars, and a hidden movie screen in the master bedroom. Mitchell left PBS last year and now heads the Museum of Television & Radio in New York and Los Angeles. Seydel is president of the Seydel Companies, an Atlanta-based chemical company.
Walter Dellinger, legal adviser to the Bill Clinton White House, and his wife, Anne, bought a two-bedroom, two-bathroom condo in this building near Dupont Circle for the list price of $1.1 million. Dellinger heads the appellate practice at the DC law firm O'Melveny & Meyers. During the Clinton administration, he was US solicitor general and worked in the Justice Department. Anne Dellinger, also a lawyer, has worked at Hogan & Hartson in DC and was a special assistant to then-FBI chief William Webster in the 1980s.
In Maryland: Journalists Christopher Orr and Michelle Cottle bought a seven-bedroom, eight-bathroom contemporary on Rossdhu Court in Chevy Chase for $1.9 million. The house, which listed for $2.4 million, overlooks Rock Creek Park and has a pool, cabana, and billiard room. Orr and Cottle are senior editors at the New Republic.