Margaret Truman is no George Pelecanos. But if your taste in Washington mysteries runs more to mind candy and name dropping than to guts and grit, Truman's books may be for you.
The latest in her Capital Crimes series, Murder at the Opera takes place mainly around the Kennedy Center and the Washington National Opera's rehearsal space in Takoma Park. The central characters, a Nick and Nora Charles–type couple named Mac and Annabel, spend little time at their jobs—law professor and gallery owner, respectively—which is just as well when a promising opera singer is found murdered. Annabel, an opera board member, asks a couple of extras—or supernumeraries—from Tosca to help the investigation, conveniently enough her husband and a music-loving ex-cop who's a little too dandy to be real.
Who killed young Charise Lee? Was it her skittish, annoying apartmentmate? Her second-rate agents? Shady terrorist operatives in the Middle East or closer to home? Plácido Domingo or restaurateur Bob Kinkead? Just kidding about the last pair, though all these and more play some part in the unfolding drama.
Truman has cetainly done her research on the opera and the Kennedy Center. Unfortunately, that's hard to miss in clunky dialogue like this:
" 'I assume I'm not interrupting something important,' Smith said, 'so I won't apologize.' "
" 'Good. Actually, I'm relaxing and enjoying my music. Strauss. Der Rosenkavalier. A perfect bittersweet comedy opera, so different from the blood and gore of his earlier works, Salome and Elektra, although they were fine, too. Quite daring. But you didn't call for my analysis of Strauss and his operas. It was good seeing you again . . . .' "
Sharp-eyed readers may catch some errors of grammar and fact (the number killed on 9/11, for instance), raise an eyebrow when a DC autopsy is completed overnight, and wonder why the ex-cop would ask to be mailed a photo rather than see a scan instantly on his 26-inch computer screen. I'd also like to know how so many characters snag "an advance copy of the latest Washingtonian."
There are amusements—such as how a suspicious pianist really gets injured by police—and subplots, some of which succeed better than others (a confab of US, British, and Canadian intelligence agents just confuses and distracts). Most wrap up too quickly at the end. But if you're looking for hometown beach reading, what the heck?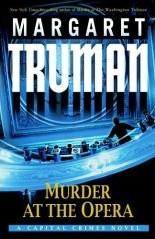 Author:
Margaret Truman
Publisher:
Ballantine Books
Price:
$24.95
Rating:
2.0 Stars