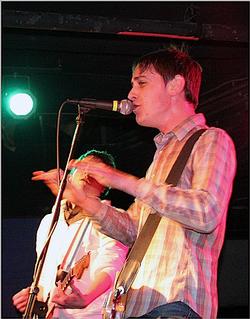 With all the excess in music these days­—new wave, synthesizers, layers upon layers of sound—it can be a joy to find a band that just takes its guitars, drums, a bass, and bangs the heck out of them to give you straight-ahead, refreshingly simple and honest-to-goodness rock.
That's what The Thermals do best. Sure, their most recent release, The Body, the Blood, the Machine, is heavy on concept (it tells the story of a nation taken over by a Christian-Fascist regime) but light on pretension. Its uncompromising punk-pop is full of bravado and melodies, but at the same time, it doesn't need to rely on anything besides the energetic guitar chords and lead singer Hutch Harris's plaintive, emotive voice.
Unfortunately, during the sold-out show Friday at the Black Cat, energy and Harris's intense performance couldn't quite live up to the potential that I imagined this Portland, Oregon, band possessed in a concert setting. Harris' voice was slightly thin; the sound was muddied, the pace of the concert rushed. A few songs almost captured that purity and joy of a really excellent live show— "Pillar of Salt" and "This is How We Know" were inspired—but too often the slightly-muffled sound overwhelmed the enthusiasm of the band. It even felt at times as if The Thermals, slightly shocked by the packed house thousands of miles from their fan base, were just a bit restrained and nervous. So what could have been a wild, rollicking, free-form concert felt slightly rigid, as if the band were holding back on us. In short, it was an-almost-but-not-quite type of show.
However, much of the audience didn't seem to share my sentiments. I mean, when was the last time you saw a mosh pit—a mosh pit—at a show? Any band who can inspire the normally-staid DC crowds to that level of excitement deserves some acclaim. Shame, then, that The Thermals couldn't give themselves up on stage to that same kind of wild abandon.
Image of The Thermals by Chris Trotter. Used with permission.