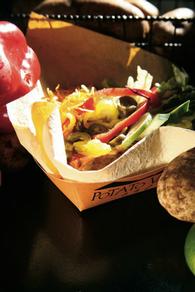 Annapolis abounds in eating venues—crabhouses, sushi joints, French country restaurants, and all sorts of pubs and taverns in which to knock back a few cold ones over a platter of freshly shucked oysters.
One of the places we return to most is a little slip of a restaurant called Potato Valley Café, on State Circle. If an entire menu given over to nothing but potatoes doesn't get your salivary glands going, it's probably because you've never made the trip. Pols, lobbyists, sailors, retirees, and students start streaming into the place shortly after it opens at 8:30 weekdays, 11 am Saturday for the gorgeous, mini-Nerf-size potatoes. Slicked with olive oil, roasted at 400 degrees, then slit open to reveal a soft, golden-yellow interior, the potatoes are filled with a variety of toppings; our favorite is an unlikely assemblage of sliced mango, sour cream, lettuce, and fried onion. They're just as good plain, which showcases the thin, chiplike crispiness of the skin—which pulls gently away from the flesh—and the soft, minerally interior of these high-quality spuds.
The bad news: The place is open only for lunch. The good, especially for those who can't get away to spend an afternoon in Annapolis: A DC branch of the cafe is set to open this month or next on E Street near Penn Quarter.
Potato Valley Cafe, 47 State Cir., Annapolis; 410-267-0902.