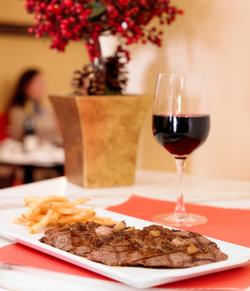 At the new Montsouris, a genial woman dressed in black greets you at the door, the sparkling kirs come in six flavors, and each waiter seems to sport an accent and a flirty wink. By the time the warm baguettes with silver packets of Plugrá butter land atop the butcher-papered tables, you can be forgiven for thinking of Montmartre.
The famously boho Parisian neighborhood? Nope—the Eastern Market bistro, the city's most dependable, whose owners opened this Dupont Circle outpost last fall. But then the meal proper begins, and the Hill, to say nothing of Paris, begins to seem far away.
If beef is the focus of the menu, it doesn't seem to be the focus of the kitchen. The "butcher steak with golden mashed potatoes" is a wobbly flatiron paired with an oddly textured cake of potatoes—they taste more minced than mashed. The best thing about an order of entrecôte isn't the thin rib eye or the funkily tangy potato gratin but the thick béarnaise. The biggest disappointment might be the steak tartare—not so much the beef but a clashing glop of Swiss-cheese sauce.
There are advantages to spurning the steaks: a spinach salad with poached pears and blue cheese, mussels in wine-stoked cream, a confited leg of duck with lightly burnished fingerling potatoes. It's the same story at dessert: The interesting-sounding chestnut cream is achingly sweet, the regular old vanilla crème brûlée delicious.
Montsouris, 2002 P St., NW; 202-833-4180. Entrées $17 to $23.50.