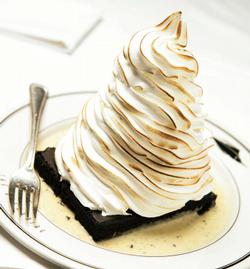 Call it a backlash against small plates. Or a nostalgia for dining on a grand scale. Or the latest clever gambit to balloon your restaurant tab. One thing is certain: Tableside service and dishes for two are back. What began with a silver-domed cart bearing prime rib and Yorkshire pudding at Colvin Run Tavern in Vienna a few years ago is now a full-blown trendlet.
Laurent Tourondel's nouveau steakhouse, BLT Steak, woos twosomes with megahunks of meat, a 40-ounce porterhouse ($79) and a 32-ounce bone-in double sirloin ($82). The new bistro Central Michel Richard offers that French classic, a prime, aged côte de beouf for two, for $60. At Blue Duck Tavern, the roasted prime bone-in rib eye twofer is paired with an elegant little pot of shallots ($80). Oceanaire bills its entire menu as sharable, but the showiest plate by far, big enough for two, is the snowy-peaked baked Alaska, flamed tableside ($6.95).
Chevy Chase's Famoso also goes for tableside pyrotechnics with black-truffle-and-pheasant risotto flambéed for all to see in a wheel of Parmesan ($30). Ray's the Steaks has resurrected Chateaubriand, a thick cut from the center of the filet ($48.95 for two). And at Charlie Palmer Steak, a special, the luscious truffle-basted rib eye for two with truffled mashed potatoes and bacon-chive popovers ($88), is presented in a copper pan. There's also a porterhouse with bacon lardon and chanterelle mushrooms ($84 for two) and occasionally a black-truffle-laden roast chicken as well ($88 for two).
Does double the cost mean double the pleasure?
Sometimes. Bryan Voltaggio, the chef at Charlie Palmer Steak, pulls out luxe ingredients for his roast chicken: The bird is practically paved with black truffles.
Just as often, though, whether a dish for two is worth it comes down to just how much of a statement a diner is trying to make. At the Willard Room, that bastion of Old World formality, tableside service gives diners a chance to show off. Waiters fill buckwheat blini with house-smoked salmon ($12 per person) and excavate salt-crusted dorade ($31 per person) as if they were command performances. They can also orchestrate grand finales like pears flambéed with poire William and New Orleans–style bananas Foster.
In an age of bustling rooms and endless small plates, fine dining has become less fine. But the comforts and privileges of the past are just a sharable slab of meat or a flaming platter away.