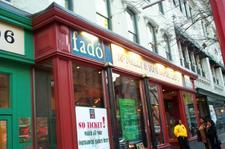 Sure, there are lots of traditional events going on this weekend in celebration of Saint Patrick's Day—and by traditional, of course, we mean centered around drinking several Irish Car Bombs. But if you're in the mood for something more charitable that still has that Irish flair, head down to Fado's (808 7th Street NW) on Saturday from 3 to 9 pm for the annual St. Baldrick's, an event where folks shave their heads to raise money for the Children's Cancer Research Fund.
The pub will have professional barbers on hand to shave the heads of those brave enough to go bald for the cause. There's also a raffle—prizes include a Newcastle snowboard and a framed Washington Capitals jersey signed by the entire team. All proceeds from the event benefit various hospitals and children's cancer research centers.
For more information, visit stbaldricks.org or call Fado at (202) 789-0066.