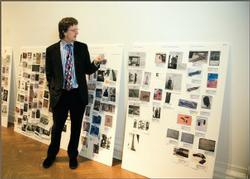 Thinking about checking out this weekend's opening of the Corcoran's much-buzzed about new exhibit, "Modernism: Designing a New World 1914-1939"? Then you might be interested in the profile of the Corcoran's new and fascinating director, Paul Greenhalgh, who was the driving force behind the exhibit, seeing it as an opportunity to put the Corcoran back on the map. Check out an excerpt:
—
Eyebrows were raised when Paul Greenhalgh arrived in Washington in April and announced that in less than a year he would bring a show to the Corcoran that would be the biggest and most expensive the museum had ever put on.
The Corcoran was in shambles. A new wing designed by celebrity architect Frank Gehry had been killed, the fund raising for it lagging well behind its rising cost. The Gehry project's chief proponent, Corcoran director David Levy, had stepped down, with some board members—and donors—following him out the door. The institution was broke and running a deficit. Art critics were pronouncing the museum adrift and grappling with an identity crisis, even questioning its survival.
"We'd been so focused on building a new building over the last ten years that sometimes everyone lost sight of what our real mission was," says chief curator Philip Brookman.
Greenhalgh, 51, a British painter and art scholar, started making changes quickly after his selection as the new head of the Corcoran gallery and school, slashing the staff even before he'd left his job as president of NSCAD University, Nova Scotia's college of art and design. Once here, he described to the board a plan for an "epic event" that would announce to the world that the Corcoran was back in business.
For the new Corcoran chief, it was a gamble—but not a tough sell. "Among Paul's many talents is making a good first impression," says Van Penick, former board chair at the Nova Scotia school.
Greenhalgh (pronounced "Greenhalsh") is so ebullient, so brimming with ideas, that superlatives seem to leap from his tongue. He could be describing a Vermeer show—"shockingly popular and fantastic ally scholarly"—or this city—"fab!"—or his vision for the museum—"You should come here and be so shocked with pleasure that you lose your mind!"
—
The article is a fascinating and revealing profile, both about Greenhalgh and the inner workings of the Corcoran—be sure to read the whole thing. Do you plan on attending the Corcoran's modernism exhibit?