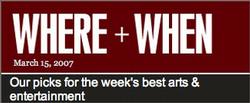 You've got our event listings in print and on the web, you've got the After Hours blog, but we here at Washingtonian.com have something new and shiny to offer up—our new going out e-mail newsletter, Where & When!
Sent out every Thursday, the Where & When newsletter offers up everything from the best events going on over the weekend, to our favorite highlights from the After Hours blog, to theater reviews, interviews, and more web-exclusive content. It's your guide to what's most fun to do over the weekend, and what arts and entertainment coverage you might have missed reading during the week.
So what are you waiting for? You can sign up right here.