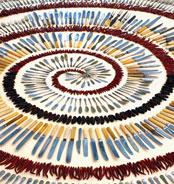 Monday | Tuesday | Wednesday | Thursday
Monday, March 19: She's just back from the European runways and ready to talk about fashion. Pulitzer Prize-winning Robin Givhan, the Washington Post's fashion writer, is at the Corcoran Gallery (500 17th Street, NW) this evening to talk about fashion, styles, and trends for the coming year. The evening is $25 for the general public, $20 for Corcoran members. 7 pm.
Tuesday, March 20: Who says the French are humorless? As part of the 2007 Francophonie Festival, more than two hours' worth of hilarious and creative advertisements from the French-speaking world—collected by France's Jean Marie Boursicot Film Library—will be showing at the Hirshhorn Museum's Marion & Gustave Ring Auditorium (7th and Independence Ave, SW) at 7 pm. $13 for the public, $10 for members.

Wednesday, March 21: I stopped by the Sackler (1050 Independence Avenue SW) this weekend to check out Simryn Gill's site-specific installations, and if you're up for a mid-week art break, I recommend that you do, too. The artist has a knack for taking found objects and arranging them in interesting patterns. Her piece "Forking Tongues" places peppers and colonial-era cutlery in a bright and enormous spiral, a commentary on the passage of time and the cultural assimilation of ideas. Free. 10 am to 5:30 pm.
Thursday, March 22: The Spinto Band's catchy pop and irresistible harmonies will get you in the mood for the weekend. They're at the Black Cat this evening on the back stage for just $10. 9 pm.
Shakespeare goes futuristic with this evening's performance of "The Tempest/La Tempete," a reinterpretation of the classic by Montreal's acclaimed 4D Art performance company. Using cutting-edge technology and multimedia effects, the company has actors interacting with virtual characters. $20 to $55. 8 pm, the Kennedy Center.
The Ms. Manor DC Habitat for Humanity Silent Auction takes place tonight–and what's more fun than buying things for a good cause? Held at Mate (3101 K Street, NW), the auction will help raise money for the construction of a home by Habitat for Humanity in Northeast DC. Donations include items from Elizabeth Arden Red Door Salon and Spa, Four Seasons Hotel in Georgetown, Café Milano, The Trapeze School of New York, JW Marriott, and other area restaurants and hotels. 6pm to 8:30 pm