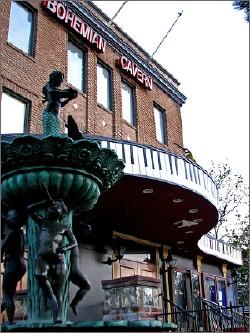 This warm weather got you itching for an outdoor happy hour? Let me recommend an oldie-but-goodie happy hour that's a favorite for my friends and me: half-priced Belgian beers at Bohemian Caverns (2003 11th Street, NW). When the weather gets warm, the music and supper club breaks out plastic patio chairs and tables, and you've got an instant terrace setting on the corner of 11th and U streets with some of the best people-watching in the city.
If you've never been to Bohemian Caverns, it's worth going to get a sense of the historically important jazz spot that opened in 1926.. The roster of legends who've performed here includes Duke Ellington, Cab Calloway, and Ella Fitzgerald. The downstairs is decorated like a grotto with stalactites and dim lighting.
From 6–11 pm on Tuesdays, the half-price Belgian beers include everything from Delirium Tremens to Lucifer to a variety of Chimay beers. There are bottles and drafts; expect most drinks to run you between $3 and $5 after the half-price discount.
Hungry afterward? Check out our U Street Dining Guide for some excellent restaurant recommendations, and make a Tuesday night of it.
Photo by Flickr user Grundlepuck. Used with permission.