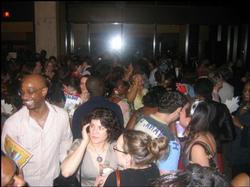 The French Embassy's Grande Fête de la Francophonie passed in grand style last Friday night—and was sold out. By the time I arrived at 7:15—15 minutes after the official start—Reservoir Road was lined with cars and crowds walking up the hill to the gated Maison Francaise.
The embassy was packed. Although there was a drawing for round-trip flights to Paris and Lithuania, among other prizes, it was obvious that everyone had also come for food and drink. Cuisine from about 30 countries was plentiful and served buffet style. As in elementary school, everyone tried to sneak to the front unnoticed, resulting in a few scowls.
I started with delicious couscous and vegetables at the Moroccan table, then moved on to Belgian white wine, Lithuanian beer and wedding cake, Lebanese baba ghanoush, Swiss pastries, sweet figs, and a honey-churro-like Egyptian dessert. My favorite was a hearty lamb and vegetable dish from the Haiti table, along with beans and rice served with a smile. The French table was serving only wine and bread by the time I reached it, and I decided it wasn't worth the 35-person wait. There was more wine than water at the event, leading to a few teenagers falling down in tipsy giggles in the middle of the hallway.
Read below for more.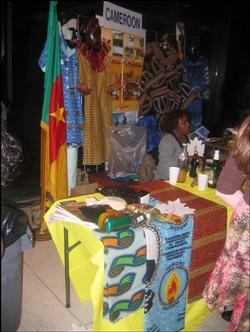 It was truly a multicultural celebration and a mixed-dress affair. Half of the attendees wore slinky dresses and black suits, while others looked like tourists who had come straight from the Mall; some even wore jeans and sandals. There was music for the full three hours, but an appearance by DJ Tass around 9 pm turned one room into a dance club. On the dance floor, women in African dresses and head wraps rocked and shimmied to drum beats. Next to them were mid-twenties couples in polo shirts and a group of teenagers with messy hair bopping around as if at a ska concert.
The DJ spun a lot of African beats, and most of the crowd sang along. I felt a bit left out until Haddaway's "What Is Love?" from Night at the Roxbury started blaring. By 10, a fair number of people were still dancing, but most of the crowd was limping down the hill to their cars, taking pictures and smiling.