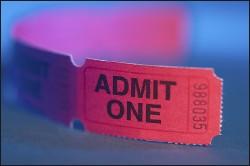 Again and again in this column, I've expressed amazement that the second TV on the Radio show at the 9:30 Club on April 19 has not yet sold out. I'll do it one more time, then I'll stop: Why in the world isn't this second show sold out? TV on the Radio, with their trademark avant-garde indie rock, put on a blistering live performance. Tickets are $20 and available here.
Have you checked out the line-up for Wolf Trap's summer season? It's pretty solid, with the regular crew of summer performers—Mary Chapin Carpenter, John Hiatt, Diana Krall, and more. In my opinion, there's nowhere better to catch a live show on a nice evening. Bring a blanket, a bottle of wine, and some things for a picnic, and enjoy the night and the music. Tickets go on sale this Saturday, March 31, at 10 am.
Another goodie at the 9:30 Club is the second Ben Gibbard show added to his original solo performance on May 10. The 6:30 pm performance sold out so quickly that the club added a late-night show at 10:30 the same evening. Catch the bespectacled and goofy musician by getting your tickets to the late show here for $25.
Couldn't grab your tickets to see Lily Allen—the British ska-reggae mistress who's burning up the charts—at the 9:30 Club before that show sold out? Try your luck with her May 28 Sonar performance in Baltimore. Tickets ($25) go on sale Wednesday, March 28, at 10 am.