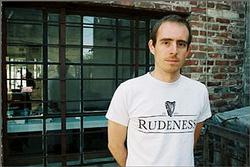 Thursday | Friday | Saturday | Sunday
Thursday, March 29: It's a three-pronged evening of great concerts in the DC area. How to choose? Over at the 9:30 Club, you have the high-energy punk-pop of Ted Leo, a hometown boy done good (9 pm, $12), and one of my favorite live performers. At the Black Cat, you have indie rock royalty in the form of Dean and Britta—that's Dean Wareham and Britta Phillips, a married couple who make deliciously catchy and lo-fi pop, lately of groups Luna and Galaxie 500 (8 pm, $15). Then at DC9, you have local romantic DC rockers Monopoli playing their last show before the band calls it quits (9 pm, $8).
If none of those concerts tickle your fancy, head over to the Corcoran (500 17th St NW), where Paul Greenhalgh, director and president, explains the idea of Utopia in art and design. His lecture is free. 7 pm. RSVP at 202-639-1774.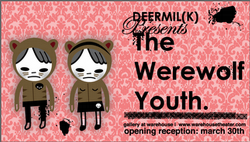 Friday, March 30: If you've ever been to the quirky F.W. Thomas literary readings at the Warehouse Theater (1021 Seventh St., NW; 202-783-3933), you may recognize the work of artist T.M. Lowery, a frequent contributor to the series. His delicate drawings often depict odd teenage characters—depressed and humorous at once—who inhabit a surreal universe filled with masks, clouds, and other strange creatures. Tonight at the Warehouse, he joins the DeerMilk Collective, a small group of international artists working in various media, for a show called "The Werewolf Youth." It focuses on a cast of adolescent feral characters created by DeerMilk artists and presented in everything from painting to multimedia. The opening reception starts at 6 pm.
If you've watched VH1 Soul, you may have seen Les Nubians, an R&B sister duet. Paris natives with a French father and Cameroonian mother, they incorporate African and European beats into their funky music. Their album Princesses Nubiennes won a Soul Train Award, and they were nominated for a Grammy in 2004. They perform this evening at 7:30 at the Smithsonian Museum of Natural History (Tenth St. and Constitution Ave., NW) as part of the monthlong Francophonie Festival, now drawing to a close. The cost is $25 for Smithsonian Associates members; $30 for nonmembers. Call 202-252-0012 for information and tickets.
If you were as big of a fan of the TV's The West Wing as I was, you probably remember the drunken British ambassador, Lord John Marbury, played by Roger Rees. The Tony Award–winning actor brings his one-man show, What You Will: By and About the Bard, to the Folger Theatre (201 E. Capitol St., SE; 202-544-7077). The performance incorporates his personal observations on Shakespeare—Rees spent 22 years with the Royal Shakespeare Company, so he's got a lot to say—along with anecdotes and others' takes on Shakespeare's works. 8 pm; $37–$45. Rees will also perform Saturday at 2 and 8 and Sunday at 2 and 7.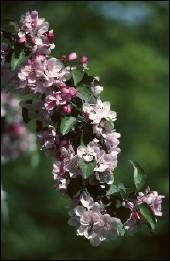 Saturday, March 31: All things cherry blossom kick off this weekend. First and foremost is the National Cherry Blossom Festival's Family Day and opening ceremony, which takes place at the National Building Museum (401 F St., NW) at 4 pm (though various activities will be going on from 10 to 5:30). Daylong events include a kimono fashion show, anime screenings, and a traditional Japanese garden created in the museum's Great Hall. The opening ceremony is first-come, first-served, and will feature remarks by DC Mayor Adrian Fenty and Japan's ambassador to the United States, Ryozo Kato. Free.
George Washington: Founding Father, our first president, all-around great guy . . . and producer of 11,000 gallons of whiskey. Yup—at Mount Vernon, Washington had a gristmill and whiskey distillery built while he lived there. This weekend, Mount Vernon celebrates the opening of the reconstructed distillery and gristmill. Costumed distillers will demonstrate 18th-century techniques showing how Washington made whiskey in the 1800s. 10 am to 5 pm; $4; ages 6 to 11, $2; 5 and younger, free. Call 703-780-2000 for information.
If you head to Iota (2832 Wilson Blvd., Arlington; 703-522-8340) tonight, you'll get a great night of polished, solid local rock for just $10. Grandiose, Brit-style pop rockers Telograph headline, with Deleted Scenes (energetic postpunk) and rockers Let's French. 9:30 pm.
Sunday, April 1: Are the spring weather and blooming flowers causing your soul to burst with a poet's yearning? Then head to the Smithsonian's Sackler Gallery (1050 Independence Ave., SW; 202-633-4880) with your pen and notebook to join poet Eleanor Graves for the family program "Poetry in the Japanese Garden: Cherry Blossoms and Poetry of the Senses." Participants will meet at the museum's exhibition "East of Eden: Gardens in Asian Art" before going outside (weather permitting) to the Haupt Garden—that gorgeous spot behind the Smithsonian "castle"—to learn about haiku and gather inspiration for their own poems. After writing and sharing your work, you can leave a copy in the branches of a cherry tree. The intended audience is kids, but don't let that stop you from unleashing your inner poet. Free; 2 pm.
Registration for the Cherry Blossom Ten-Miler race is full, but that doesn't mean you can't have fun as a spectator. One of the country's largest ten-milers, the Cherry Blossom starts at West Potomac Park (west of 17th St. and south of Constitution Ave., NW) at 8 am, heads across the Memorial Bridge, and makes its way onto Rock Creek Parkway before turning back to West Potomac Park.
I'm in love with the innovative, whimsical, and psychedelic pop put out by Tennessee's De Novo Dahl. They'll grace the stage at DC9 (1940 Ninth St., NW; 202-483-5000) this evening with the Virgins and Even So. 9 pm; $8.