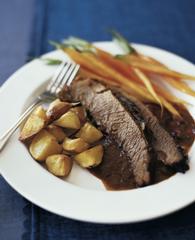 The only right and proper way to commemorate a holiday is with a home-cooked feast. But if you must cheat this Passover, you can hardly do better than a Kobe beef brisket from RSVP Catering (rsvpcatering.com).
It's not really Kobe beef—the richly marbled Japanese beef—but the lower-grade American variety. But this is still the most melt-in-your-mouth brisket we've ever tried. The meat is precooked, sliced, and submerged in one of two sauces—a traditional beef-and-onion gravy or a Coffee Ale Mop sauce. All you have to do is reheat.
Such lusciousness isn't cheap. The brisket is $21.95 a pound, with a five-pound minimum order; you can pick up your brisket at RSVP's Fairfax facility or, for an extra charge, have it delivered. We think it's worth it for a main course that tastes as though you spent all day in the kitchen.
So it's not exactly Kobe beef—this Wagyu brisket is still the most melt-in-your-mouth beef we've found.