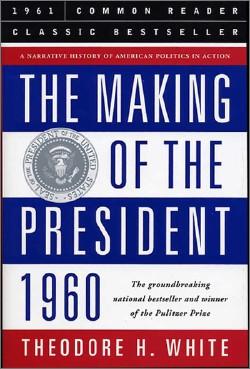 In the mid-1980s, Ronald Steel—a professor of international relations at the University of Southern California and an award-winning political writer and biographer—wrote an essay in the New York Times filled with rants about the length and pomp of presidential campaigns.
"Within the memory of anyone under 35," he wrote—in words that now seems laughably premature for 1984 given the length of more recent campaigns, "[presidential campaigns] were quadrennial affairs with perhaps a six-month warm-up just before the big event. Now a campaign is like Mardi Gras in Rio—it seems to go on forever."
Besides the shift in campaigns from battles to spectacles, Steel eulogized the disappearance of "substantial" campaign biographies and autobiographies by candidates and reporters to help the public maneuver intelligently through the pre-election months and, post-election, make peace with the results.
For Steel, two books from 24 years earlier had accomplished this feat. The first, Barry Goldwater's campaign autobiography, Conscience of a Conservative, helped, in Steel's words, "set the agenda for the 1964 Republican convention" and introduced ideas that "reverberated through America's political consciousness." The second, Theodore White's groundbreaking account of the Kennedy-Nixon campaign, The Making of the President, 1960, revealed for the first time what Steel called "the great election story . . . . the one behind the scenes."
Books of the Goldwater brand now come in waves during every election cycle—but they aren't as individualistic, pointed, or impassioned as Goldwater's. In a stunningly frank passage for the time, he wrote: "I have little interest in streamlining government or in making it more efficient, for I mean to reduce its size . . . . I do not undertake to promote welfare, for I propose to extend freedom. My aim is not to pass laws, but to repeal them."
Words like those cost Goldwater the 1964 election to Lyndon Johnson. Forty years later, in the age of YouTube and blogs, politicians wouldn't dare be as forthright. The type of showmanship our political climate requires can make for pretty boring reading. The last thing many of us are looking forward to is reading how Mitt Romney or Christopher Dodd is going to restore to America its neglected values.
I hold out hope for Senator Jim Webb's forthcoming book from Broadway Books in May 2008 because of the high quality of his Vietnam novels. But the publisher's description of the book—an expansion of "his campaign themes, including diplomacy-based national security, more accountability in government, and economic policies to close the gap between rich and poor"—involves the language and idealistic nebulae that have become standard, and far from substantial, fare.
That's why the second type of campaign biography—by observant reporters such as White, Hunter S. Thompson, and Walter Shapiro—has long made for better reading. In these books, politicians are part of a larger cast that includes pundits, back-room dealers, publicists, campaign staffers, and—in the case of White's book and Timothy Crouse's 1973 classic, The Boys on the Bus—the journalists who cover them.
What results is often a cadre of interconnected characters who become part traveling circus, part picture show, part wolf pack in a heated, at times sloppy, heave toward the White House.
Even the drabbest of races, such as the 1996 contest between Bob Dole and Bill Clinton, can provide better theater than what you'll find at the most histrionic playhouse. Roger Simon, now a columnist for the Politico, and Michael Lewis proved this with their distinctive, disgruntled, and hilarious campaign accounts—Simon's Show Time: The American Political Circus and the Race for the White House and Lewis's Trail Fever: Spin Doctors, Rented Strangers, Thumb Wrestlers, Toe Suckers, Grizzly Bears, and Other Creatures on the Road to the White House.
The 2008 campaign is shaping up as one for the ages. The field of candidates seems to widen every day, and already—a year and a half from the election—the rifts between candidates are opening. New Republic White House correspondent Ryan Lizza will take up the 2008 presidential campaign in a book to be published by HarperCollins after the election.
Read below for more.
Lizza's political profiles for the New Republic and GQ are noteworthy for the way they carefully scuff the polish off some of the most well-buffed subjects. In a recent New Republic profile of Barack Obama, Lizza recounted an episode from Obama's pre-Senate days, in which he was meeting with a Chicago community organizer when a panhandler approached the two. Lizza wrote: "Instead of ignoring the man, Obama confronted him. 'Now, young man, is that really what you want to be about? . . . I mean, come on, don't you want to be better than that? Let's get yourself together.'"
Lizza's conclusion about Obama: "He was a natural, the undisputed master of agitation, who could engage a room full of recruiting targets in a rapid-fire Socratic dialogue, nudging them to admit that they were not living up to their own standards."
In a January GQ profile of Rahm Emanuel—the cranky, foul-mouthed Chicago congressman who was the chief orchestrator of the 2006 Democratic takeover of the House—Lizza wrote about a meal he had with Emanuel in which the congressman was particularly grim, comparing the lack of Democratic momentum to "a faulty car ignition" and staring at Lizza "with contempt and pity." Then, as he finished his steak, Emanuel received from his communications director breaking news about the launch of an investigation into then–Representative Mark Foley's e-mail exchange with a congressional page. "For the first time all night," Lizza wrote, "Rahm cracks a smile."
Times have changed since 1960, but in the hands of Lizza, we're likely to get a campaign biography that Ronald Steel would like—full of telling anecdotes, entertaining charcterizations, intense drama, and discursive analysis about what it all really means to the country.
Other recent Washington-related book deals:
Shelby Steele—whose The Content of Our Character: A New Vision of Race in America won a National Book Critics Circle Award—will examine the racial issues confronting Barack Obama as he runs for the White House. The book will be published by Free Press in November. Steele is a reseach fellow at Stanford University's Hoover Institution.
In An Inconvenient Book: Real Solutions to the World's Biggest Problems, to be published in fall 2007 by Threshold, radio host Glenn Beck will write on everything from marital issues to illegal immigration with the same attitude that's garnered him one of talk radio's largest audiences. Beck also hosts a TV show on CNN Headline News.
Charles Jones—who coauthored last year's Boys of '67: From Vietnam to Iraq, the Extraordinary Story of a Few Good Men—is set to publish Red, White, or Yellow: The Military, the Media, and the War in Iraq (Stackpole Books). Jones, a reporter for the Richmond Times-Dispatch and the son of a Marine lieutenant general, will write about the "complicated relationship" between the military and the media. The book is due in September 2008.