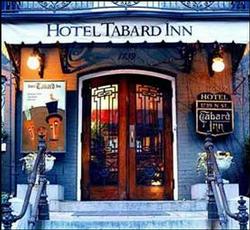 There's been plenty of recommendations on After Hours about where to go for a drink when the weather is warm and delightful (Tabaq with its open roof, Bohemian Caverns with its half-price Belgian beer on Tuesdays and Rosemary's Thyme with its outdoor seating and happy hour food menu, for example).
Well, then, I suggest you head to the bar at the Tabard Inn (1739 N St., NW; 202-785-1277). The lounge is dark and sophisticated, with plenty of nooks and corners and comfy seats. Better yet, for those truly cold spring days (and it looks like we have a few coming up), there's a fireplace—though take note that the inn won't light it unless the temperature is below 40 degrees. Order a dirty martini and settle in for a cozy evening while the rain and clouds become a distant memory.
Read more about the Tabard Inn's restaurant, which made it on our 2007 100 Best Restaurants list, here.