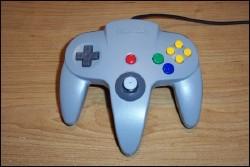 Looking to get your gaming on? Head to Fantom Comics (4500 Wisconsin Ave., NW) at midnight on Saturdays, when you can play video games in a truly dorky setting: surrounded by fellow video gamers and stacks and stacks of comic books.
Every Saturday since February the comic-book store in Tenleytown has been hosting a free midnight video-game session on the store's 42-inch plasma screen, where up to four people can play at a time (others can watch and wait their turn to play). Each week features a different gaming console; this weekend, you can play on a Nintendo 64. There are snacks and prizes for high scores and competition winners.
If you're looking for something to occupy you in the area till midnight, about a mile away from Fantom Comics is Comet Ping Pong (5037 Connecticut Ave., NW), a quirky pizzeria where you can eat and play ping pong to your heart's content at one of several tables.