Monday | Tuesday | Wednesday | Thursday
Monday, April 9: Literary and music scenesters meet tonight when the F.W. Thomas reading series holds its Rock and Roll Edition at the Warehouse (1017-1021 7th Street, NW). Author John Sellers will read from his new book, Perfect From Now On: How Indie Rock Saved My Life; Glenn Dixon will speak on what he calls the "hidden pornographic subtexts" of Christian rock; and artist and regular F.W. Thomas performer T.M. Lowery will share some recent drawings. Bonus: You can check out the Warehouse exhibit I recommended previously, "The Werewolf Youth," before heading to the reading. 7:30 pm, $5.
Tuesday, April 10: Techno prog rockers Trans Am not only play slick music and put on a good show—they're local, too. See the trio, which has been playing together for more than a decade, tonight at the Black Cat. Doors open at 8 pm. $12.
Wednesday, April 11: Cloud Cult, hailing from Minnesota, makes an appearance at the Black Cat with local rockers Exit Clov. I've been listening to Cloud Cult's new album, The Meaning of 8, nonstop recently—its lush harmonies and catchy melodies pack an emotional punch. I'll be interviewing Cloud Cult this week, so check back on the After Hours blog for that later. $10, 9pm.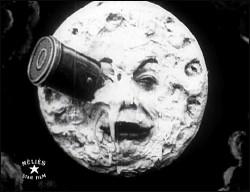 Thursday, April 12: The Phillips Collection (1600 21st St. NW) celebrates early French filmmaking this evening with "Inventing French Cinema: From Lumiere to Melies." The Phillips will screen several ground-breaking short films, including a selection of the Lumière brothers' "actualities" (short movies about everyday life) and some fantasy films by legendary filmmaker Georges Méliès. 6 and 7 pm; $12.
Two great local festivals get started Thursday evening. First is dccomedyfest, featuring local and national standup comedians and other comedy acts. We interviewed founder Blaire Postman about her thoughts on why DC's getting funnier. For a schedule of dccomedyfest events, click here. My recommendation? The official Late Night with David Letterman auditions. You can see some of the best under-the-radar standup comedians sweating it while Letterman bookers determine if they're funny enough to be on the show.
Then there's the Six Points Music Festival, which kicks off today Thursday and runs through April 21. Highlighting some of the area's finest local bands, the festival takes place in venues all over DC and Northern Virginia. I'll make sure to catch the Middle Distance Runner and These United States show at Iota on April 20, as well as Gist, The Alphabetical Order, and Lemonface at the Rock N Roll Lounge on April 14. The full lineup is right here.
For more musical recommendations, don't forget to check out Listen Up!, my mp3-filled blog post about this week's upcoming concerts.