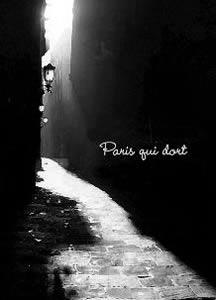 It's April in Paris, and the National Gallery of Art is celebrating in nostalgic style with "Parisian Panorama: 1920-1930". For the next two weeks, the East Building auditorium will show free films from the 1920s films —short pieces, black and whites, silents, and more— starring the City of Light and its residents. The movies are presented in conjunction with the photography exhibition "Paris in Transition," which is open until May 6.
The series begins this Saturday, the 14th, with two documentaries showing a Paris different from the one in "Amelie". See a film composed of five different visual studies of the street life of Paris, from cafe workers to traffic, at 12:30 pm. Next comes a short work mixing still photography and film that shows not only the city's monuments and passersby but also footage of film factories and studios.
Sunday the 15th is all about filmmaker René Clair, so prolific a filmmaker that L'Académie Française named a cinematography award after him. Starting at 4:30, the National Gallery is showing three of his films, starting with a ten-minute silent of the Eiffel Tower and ending with the full-length feature (his first film with sound) "Under the Roofs of Paris." The 35-minute film between those two is the fantastical story of an Eiffel Tower night watchman who wakes up one evening to find Paris frozen in time.
The final showing on Saturday the 21st kicks off at 1 pm with a 1928 film portrait of France's capital city and ends on a humorous note. Show up around 1:30 to see "Paris la Nuit," which follows a fictional young countess through her foolish errand to see the poorest neighborhoods of the city. Laughter is sure to ensue.