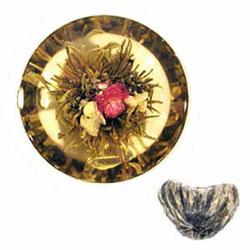 Blossoms are all the rage right now. The 95th anniversary of Japan's floral gift to America has inspired a city-wide cherry blossom fever. But after the kite festival, lantern lighting and street parades, head to Ching Ching Cha in Georgetown for a relaxing glass of blossom tea.
Part of the experience is watching the live blooming of each bud. Each of the five flowers—all under the "Artisanal Tea" section—begin as a closed, tightly-knit cocoon and unfurl into a full-bodied bloom. The caterpillar-to-butterfly process takes about ten seconds, revealing a hidden magic in each of the leaf-wrapped buds.
Though cherry blossoms aren't on the menu, the teahouse offers a lineup of family members. When submerged in hot water, the peach blossom matures into a red, strawberry-like bloom. Orange blossom reveals both orange and jasmine blossoms, and has a stronger green tea taste. The jasmine blossom really shows off, with a hidden string of buds opening in a domino effect. Chrysanthemum begins as a mushroom-shaped bundle, unfolding into a daisy-like display. Jade ingot reveals two white Jasmine blossoms and pink petals in the center.
Each steeped artisanal tea is $7, or at Ching Ching Cha's charming tea shop, you can buy a wrapped pack of seven buds for $7.50.

Ching Ching Cha, 1063 Wisconsin Avenue, NW; 202-333-8388.