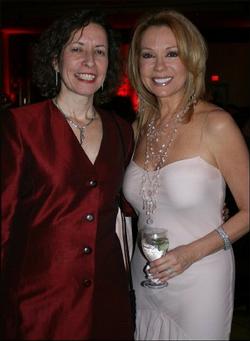 The show must go on. After a somber moment to recognize the tragedy at Virginia Tech, Washington's theater community struck up the band to celebrate its stars at the 23rd annual Helen Hayes Awards.
Among the bold-face names in attendance: composer Marvin Hamlisch, Rockville native Jason Kravitz—currently on Broadway in The Drowsy Chaperone—and actors Lynn Redgrave, Derek Jacobi, and James MacArthur, the former Hawaii Five-O costar whose mother, Helen Hayes, inspired the awards. They were joined by hundreds of actors, angels, directors, choreographers, techs, and theater groupies.
You can always tell the actors and creative artists—they're the ones dressed to the nines, and the ones with the best hair are the men. George Fulginiti-Shakar, who picked up the award for outstanding music direction for Arena Stage's Cabaret, was tastefully attired in black and pearls.
Offstage highlight of the evening: the reunion of Bowie High School classmates Kathie Lee Gifford and Washington writer Jane Freundel Levey. "We're old Bulldogs, but we're not bitches," Gifford said.
Onstage highlight: Shakespeare Theatre Company artistic director Michael Kahn, in accepting the award for his hippie production of Love's Labor's Lost, thanked John, Paul, George, and Ringo.
Best brother-sister act: Joe Calarco won for his direction of Signature Theatre's Assassins; his sister, playwright Renee Calarco, picked up the Charles MacArthur Award for Outstanding New Play or Musical for her Short Order Stories, produced by Charter Theatre.
More pictures below the jump.