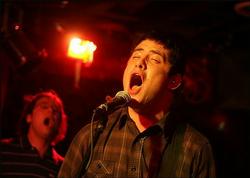 Thursday | Friday | Saturday | Sunday
Thursday, April 26: Pela plays the Rock and Roll Hotel (1353 H St., NE; 202-388-ROCK). You don't want to miss Pela in such a small setting before the band takes over the country—which, I promise you, it will. I caught Pela a couple of months ago at DC9 and was impressed by its passionate live performance—the crowd couldn't get enough, and the band happily accepted requests to play well beyond the set list. The group plays straight-ahead, incredibly melodic guitar rock. $10. Doors open at 8 pm, but Pela probably won't go on till fairly late, as there are three opening acts.
Time for another spring beauty and fashion event—one that I definitely won't be missing. It's Beauty Night Out, held at the Embassy Suites Hotel (1250 22nd Street, NW). There'll be manicures, make-up touch-ups, plenty of clothes and accessories, cocktails, and more. Tickets are $35 in advance (purchase here), $45 at the door, and include a nice little goodie bag. A portion of all ticket sales will be donated to Dress For Success. 5 to 10 pm.
The Hirshhorn screens The Pervert's Guide to Cinema, which, truth be told, isn't as dirty as it sounds, but is loads of fun anyway. Director Sophie Fiennes takes wacky and bombastic film scholar Slavoj Žižek and inserts him into recreated settings or original locations of classic films, like the bedroom from The Exorcist or the bay in Hitchcock's The Birds. Žižek deconstructs scenes and interprets the directors' intentions, leading both to hilarity and insight. Free. 7 pm.
Friday, April 27: Project Runway's Tim Gunn was in town last week. Now another star of that show is coming to the area. Designer Michael Kors will receive Marymount University's Designer of the Year Award at "Portfolio in Motion," the Arlington school's annual student fashion show. Times and prices vary for events; click here for information.
The international art fair ArtDC runs today through Monday, with more than 80 galleries showing work to interested collectors. Admission costs $12, but on Friday it's free. Washington Convention Center, Hall E, 801 Mount Vernon Pl., NW. Friday through Sunday 11 am to 7 pm; Monday 11 am to 5 pm.
If you got tickets to the first reunion show by the Dismemberment Plan at the Black Cat, you struck gold. To get psyched for the show—I'm going crazy with impatience—read my interview with lead singer Travis Morrison on everything from how the band is prepping for its first performance in years to what local bands Morrison listens to.
Remember the Chocolate Decadence buffet at the Ritz-Carlton (1150 22nd St., NW)? It's still going on, but this Friday is the last time it'll take place till next winter. Go forth and indulge. 7 pm to 10 pm. $35 a person, with admission first-come, first-served. For information, call 202-974-5566.

Saturday, April 28: Shop your heart out in a European-like setting when Georgetown transforms itself into an open-air French market that starts Friday and goes till today. Stores, from antiques shops to jewelry and clothing boutiques, will offer discounts of up to 70 percent on items displayed on the sidewalks. Urban Chic, Sugar, Sassanova, Pink November, Sherman Pickey, the Phoenix, Hitched, and many more are participating. 11 am to 7 pm. Wisconsin Avenue between P and R streets, NW.
What hideous objects are hiding in the back of your closet? That's what the group SMASHED wants to know—it's hosting a charity event at Grand Central (2447 18th St., NW) this Saturday from 8 pm to 11 pm that will give prizes to those wearing the most awful shirts. Your $10 donation at the door goes to the local nonprofit Community of Hope; used-clothing donations also accepted. Plus—drink specials!
Sunday, April 29: It's the Bard's birthday, and the Folger Shakespeare Library (201 East Capitol St., SE; 202-544-4600) is celebrating with an open house in the Folger Reading Room. There will be jugglers, stage-combat classes, food, drink, birthday cake, and more. Admission is free, with a charge for food and drink. Noon to 4 pm; a cake-cutting ceremony will be presided over by Queen Elizabeth I at 3:30 pm on the front lawn.
It's the last day of Filmfest DC, which has been showing great international movies for the past ten days. Make time today for Paris, je t'aime at Regal Cinemas Gallery Place (707 Seventh St., NW; 202-393-2121). The premise: Twenty of the world's most well-known filmmakers—including Gus Van Sant, Joel and Ethan Coen, and Wes Craven—were each set loose in one of Paris's neighborhoods with the instruction to make a short film about love. The results will delight you. $15. 3:30 pm.