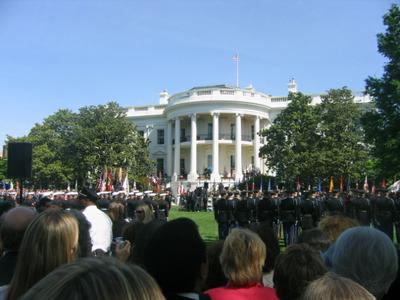 The Queen's arrival ceremony today at the White House felt proper and royal, despite a few bumbles. While the audience waited with miniature American and British flags in the shade of the White House lawn's trees, the Air Force band played "Ruffles and Flourishes" and "Hail to the Chief." The Queen arrived in a black limo and was bedecked in a pert white and black hat. There was a performance of both countries' anthems, a review of the troops and a short speech from both President Bush and the Queen. Many in the audience were excited by a band dressed in redcoat uniforms.
One of the best moments during the event was a mistake. After the President accidentally said the Queen attended the bicentennial celebration in 1776 instead of 1976 there was a 10-second pause while he looked at her apologetically and the crowd laughed. Then he announced: "She gave me a look that only a mother could give a child," and the crowd was all smiles—it was the only time during the event that anyone on stage made a candid remark.
While the speeches of the President and the Queen stressed the importance of the 400th anniversary of the Jamestown settlement, President Bush emphasized the need to fight against terrorism to protect individualism and freedom. The Queen spoke of friendship between the two countries before stepping off the podium platform with the President and walking up the steps to wave to the crowd from the South Portico of the White House. The audience, many who got tickets from friends with connections or through a lottery, responded with their cameras held high in the air.