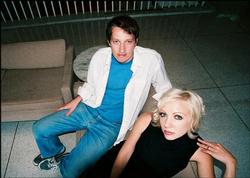 Monday | Tuesday | Wednesday | Thursday

Monday, May 21: The DC Jewish Community Center (16th and Q Streets, NW) hosts "Short Films: Song, Dance, and a Bit of Romance," featuring 80 minutes of recent award-winning short films. 7:30 pm. $8.50. Purchase tickets here.

Tuesday, May 22: Head out to the Rock and Roll Hotel (1353 H Street, NE) to catch the Rosebuds, one of my favorite bands so far this spring. The North Carolina group plays power pop with a layer of catchy disco. Plus, it'll probably be one of your last chances to see area band Le Loup, who open for the Rosebuds, in such a small setting. The group just signed to Sub Pop and is releasing an album in the fall full of grand, emotional rock that's sure to be a big hit. So go see them while you can, and later on you can brag to your friends that you saw them way back when. 9 pm. $10.
Wednesday, May 23: Michael Chabon, the Pulitzer-Prize-winning author of books like Wonderboys and The Amazing Adventures of Kavalier & Clay, comes to the Sixth and I Historic Synagogue (600 I Street, NW) to talk about his latest work, The Yiddish Policeman's Union. 7 pm. Tickets are $12, or two for free with each book purchase.
Thursday, May 24: What's better than a great Shakespeare performance? How about a great Shakespeare performance, for free, in a lovely outdoor setting? That's what you get at the annual Shakespeare Free for All, which kicks off tonight at Carter Barron Amphitheatre in Rock Creek Park (16th Street and Colorado Avenue, NW). Tonight it's a production of "Love's Labor Lost." 7:30 pm. Details here.
Drink and mingle among art treasures at the Corcoran exhibit "Modernism: Designing a New World 1914–1939." The 1869 Society hosts "Cultural Cocktails," a happy hour at the museum from 6:30 to 8:30 pm. $10; register in advance here.