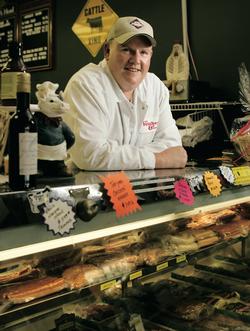 Memorial Day is the classic harbinger of grilling season. Propane and sacks of charcoal fly out of grocery stores nationwide. But what to grill? Back in October, we profiled Mike Smollen of My Butcher and More, the old-school butcher shop (complete with blood-flecked smocks and a mother-in-law behind the counter) hiding in a strip mall off Defense Highway in Gambrills. We just spoke to Smollen, and though he's already got people lined up out the door, he spared us a few seconds to tell us what's in store for the holiday weekend.
Smollen promises that he's prepared for the onslaught (pun intended) of customers. His prime rib, Kobe, flatirons and choice Angus steaks are well-stocked and waiting in the back. He notes that strip steaks and dry-aged Roseda Black Angus have been flying out of glass cases. So too the prime steak burgers, which he just began selling a few weeks back. For those, Smollen takes the trimmings of USDA prime rib-eyes and grinds the meat himself. With such good marbling, the meat doesn't need seasoning. This weekend only, he's selling them for a bargain–$4.99 a pound. "They definitely won't be that cheap next week.," he says.
Beyond the traditional red meat, Smollen is selling luscious hand-pulled pork, which he's discounting this weekend to $7.49 a pound. His Jamaican jerk chicken kebabs have already been marinated–and are foolproof to make. Smollen encourages those with many mouths to feed to place special orders over the phone. And he'll stay open for emergency visits on Monday between 10 AM and 3 PM.
My Butcher and More, 1334-E Defense Hwy., Routes 424 and 450, Gambrills; 410-451-3296; Mybutcherandmore.com.
This weekend, the store is open between 10 AM and 6 PM on Saturday, between 11 AM and 4 PM on Sunday, and between 10 AM and 3 PM on Monday.