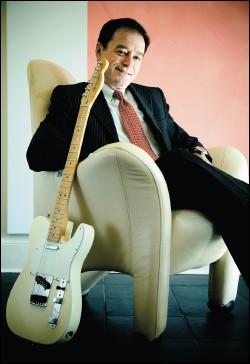 Hungarian ambassador András Simonyi doesn't fit the diplomat stereotype. When he arrived here in 2002, he helped start a rock band that includes Jeff "Skunk" Baxter, formerly of Steely Dan and the Doobie Brothers; C.J. Vanston, who was Joe Cocker's producer; and US ambassador to Korea Alexander Vershbow. The band has played at DC's 9:30 Club, Walter Reed Army Medical Center, and Cleveland's House of Blues. His guitar playing landed him a skit on Comedy Central's show The Colbert Report this spring.
But Simonyi's no diplomacy lightweight. Born in Budapest in 1952, he speaks six languages, and before he became ambassador he spent most of the 1990s as Hungary's first permanent representative to NATO.
Where's your favorite spot in Washington?
By an old lamppost on the shore of the Potomac in Georgetown where I gaze at the river after the walk I take almost every morning.
Favorite pastime?
Playing my guitar with the terrific Coalition of the Willing rock band.
Favorite television show?
The Colbert Report, the ultimate mirror to America. It forces me to keep up with what is happening in this country. Otherwise I would not understand what on earth he is talking about.
Favorite movie?
Blow-Up by Michelangelo Antonioni, which is about the 1960s in England. In communist Hungary it was shown to demonstrate the decadence of the West. In reality we loved it and wanted our lives to be like that.
Favorite book?
The Desert of the Tatars by Dino Buzzati, about a soldier waiting all his life for the "big one" at an outpost close to nowhere. He gets old, becomes a general, but waits in vain for the battle. That is a great metaphor: Live your life, don't wait, because this is it.
What's on your bookshelf?
Five volumes of a tremendous study about Auschwitz. My father's family was Jewish, and my grandparents died in the Holocaust. It is sad reading, but I owe it to them.
Favorite rock band?
Traffic. I was a great fan even before I saw them and met them in Budapest. I got to spend a day with Jim Capaldi (drums) and Chris Wood (sax/flute) in the countryside. Great guys; sorry they are gone.
All-time favorite restaurant?
Brasserie Georges in Brussels, which reflects a great fin-de-siècle atmosphere. The food is great, the selection of oysters phenomenal; the service is the best in the world. You would go back after a few years, and they would remember your name. That's nice.
Favorite everyday restaurant?
The Oval Room in DC. I get there a lot to talk business. It has a nice feel to it and no snobbery. Very cosmopolitan.
Favorite food?
Cold goose liver (the way only my wife can make it), fresh Hungarian bread, and paprika. It is the worst thing you can have if you have a cholesterol problem, but so what? It's still the best thing in the world.
Favorite drink?
Johnnie Walker Red. Keep it simple.
Best meal ever?
Homecooked lobster. We have that for Christmas. We buy it fresh whenever we can, and we cook it together and have fun having the little monsters all over our clothes. But what a delight.
Favorite spot in Hungary?
The tenth floor of the Marriott hotel in Budapest, overlooking the Danube River.
Historical figure you'd most like to meet?
Winston Churchill. He pulled the world out of a mess and stayed cool and calm throughout. He is a role model.
Favorite object you own?
Fender Telecaster guitar signed by Steve Winwood. He came and had lunch with me in Washington. What a great guy, very intelligent.
Thing that others would find surprising about you?
My size. They all expect a taller guy to be my wife's husband. That's at least what my wife tells me.
Your proudest accomplishment?
To have President Bush show up at our national-day celebration, sit next to me, and borrow my pen to make notes for his speech. He honored the freedom fighters of 1956. Might happen again in 100 years. Great speech. Great pen. Might go on eBay for charity.
If you could do something other than being a diplomat, what would it be?
I'd like to have been a carpenter making fine furniture. My father taught me to work with tools; I make small furniture at our house in Budapest.
What makes Washington special?
The combination of political power, business, and the arts. This city has grown in sophistication due to the efforts of the National Gallery, the opera, the Kennedy Center, and all the great art institutions. They are the glue.