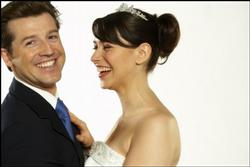 By Andrea Poe
From the moment you get engaged, you're focused on the details of planning a wedding. Is a DJ better than a band? Is chicken predictable? Will the bridesmaids' dresses clash with the flowers?
There's so much to think about that planning can become overwhelming. The best advice comes from the people who've been there.
We asked brides and grooms what went right, what went wrong, and what they'd do differently. Here are 14 tips from wedding veterans. For more wedding advice, check out the June issue of The Washingtonian, on stands now.
"The night of our rehearsal dinner we played a video montage that included shots of family and friends. Rather than forcing everyone to watch it at a set time, we had it play in a loop so they could check it out when they wanted to. People really loved it when they saw themselves on that video."
—Carin Rosenberg Levine, 31, who married in December 2004 at DC's Westin Grand
"One of the smartest things we did was hire my sister's friend to act as the coordinator of the day. She's not a professional, just someone we could trust. She handled every little thing that came up. She even packed up our gifts and drove our car home so everything was waiting for us after the wedding."
—Ashley Chamberlain, who had her reception at Sequoia in Georgetown in April 2005
"I'm Jewish, but my husband's family is not. My father-in-law was supposed to take the glass from the rabbi and put it under my husband's foot, but he put it under his own foot and smashed it himself. About 80 percent of our guests were Jewish. At first they gasped—according to tradition, only the groom can break the glass—then they laughed. I'd recommend having a formal rehearsal—make sure everyone knows exactly what they're supposed to do."
—Lauren Boegner, who married her husband, Scott, at Antrim 1844 in Taneytown, Maryland, in June 2004
"Make a list of people you want the photographer to take pictures of. Not one of the 1,000 photos we have is of me with my parents. When I asked the photographer about it, he said that I hadn't given him a list specifying which shots I wanted. Put it in writing—even if it seems obvious."
—Janel Abbass O'Neill, who married in October at Thomas Birkby House in Leesburg
"We made a lot of stuff for the wedding. Since we had an outdoor wedding in July, we made our programs into fans by attaching them to Popsicle sticks. We made our favors—white porcelain teacups with organza bags of jasmine tea, tied with tags with tea-related quotes. Not only did my husband and mother help, but so did my father, who's not a crafty guy. It brought us all closer together."
—Julia Lichtman Kepniss, 31, co-owner of Hitched, a bridal salon in Georgetown
"At the reception, my maid of honor spoke, then the best man. As he was finishing, my uncle unexpectedly stood up. He spoke for a long time, which was really sweet, but we ran out of time and had to postpone the dancing until after dinner. I think my uncle felt like if he didn't get up then and there he wouldn't have a chance to speak. I wish I'd prearranged a time for family members to speak."
—Denise Vogel, an Alexandria therapist who married in August 2004
"We hired our photographer for $2,000, but it turned out the price only covered her time. Our wedding album wound up costing another $1,300. I wish I'd negotiated with her to get a few extras included in the price, like the negatives. Also, order digital images. We didn't and really regret it. We don't have anything to send to people who missed the wedding."
—Mike Jakaitis, an editor at WTOP radio, who met his wife, Kellie, on Match.com
"We got married when Hurricane Isabel hit. Although we were watching its path, we didn't have a contingency plan in place for our outdoor wedding because it would have been expensive to reserve a backup venue. We wound up losing electricity. The toilets stopped flushing, and the flaps of the tent were snapping in the wind, but we lit candles and went on with the wedding. It ended up bonding people together."
—Anna Jewell, 32, an economist with the US Treasury, who lives in Dupont Circle with her husband, Andrew
"As we walked outside to be married, our innkeeper at the Briar Patch B&B in Middleburg came running over to tell us that the minister wasn't there. He totally forgot about our wedding. He was home watching football! We had to wait an hour for him, so we asked the caterer to bring out wine and hors d'oeuvres. I mingled with our guests until the minister got there. It was a little unusual, but we made the best of it. We should have called that morning to confirm that the minister was coming."
—Anne-Marie Stacey, 40, senior adviser to the deputy commissioner of US Customs and Border Protection, who lives in Reston with her husband, Fred
"Hire someone to videotape the wedding. We almost didn't do it because we wanted to save money. If a friend hadn't strongly recommended it, we'd have skipped it. At the last minute we found a guy to do the video, and it's the smartest thing we did. The photos were nice, but they didn't capture the feeling of the day—the way we moved and how good the music sounded. It's definitely the video that we'll look back on in 20 or 30 years when we want to remember the wedding."
—Jon Ellen, who met his wife, Tina, while they were studying architecture at Catholic University
"The place we originally chose for our wedding didn't have a liquor license or a B&B license, so it got shut down. We assumed if it was in business, it had a license. Wrong. We had booked it 18 months in advance and then were stuck—a couple of months before the wedding—with no place to get married. We'd put down $5,000 as a deposit. We ultimately got our money back, but my advice is always put your deposit on a credit card so if there's any problem you can fight it. And always ask about licensing, even if it's awkward. We found a wonderful B&B that squeezed us in after hearing our sob story."—Lindsay Weissbratten, 31, who got married in October 2004
"The day of the wedding I went to the hairdresser, and she told me she had to go to a funeral. She rolled my hair, stuck me under a dryer, and left. I should've had a contingency plan. I could have either had my hair done the day before or practiced some styles myself. My hair didn't wind up looking too good, and that's captured forever in photos."
—Andrea Freeman, 27, who owns Andrea's Papillon, a handbag boutique in Easton
"August 13, 2005, was the hottest day of the year, and every one of my bridesmaids was sweating buckets and wiping her face with Kleenex or the back of her hand. Somehow the blot paper I included in their gift bags never made it to the wedding. My makeup artist, Leah Delacy of Blue Seale Studio, applied our foundations using an airbrush, so all you see in the pictures is a group of stunning, smiling women rather than smeared eyeliner."
—Julie Reynolds, who married at Gramercy Mansion in Stevenson, Maryland
"We put our five-minute wedding-video recap and 20 of our favorite photos on a CD and mailed them out along with our thank-you notes. It was a nice way to remember the day for those who were there and even more special for those unable to join us."
—Wendy Siminski, who met her husband, Jason, in a cab