Reviewed by Bethonie Butler Worlds collide in Dinaw Mengestu's debut novel, The Beautiful Things That Heaven Bears. In this poignant story of what it means to be a stranger, Mengestu—a native of Ethiopia and a former District resident—draws a parallel between gentrification and immigration, highlighting the subtle similarities between being new to a neighborhood and being new to a country.
"We all essentially wanted the same thing," says Sepha Stephanos—the novel's middle-aged protagonist and narrator, an Ethiopian immigrant who owns a corner store in DC's changing Logan Circle neighborhood—"which was to feel that we had a stake in shaping and defining what little part of the world we could claim as our own."
Indeed, the need to shape and define a piece of the world is shared by Sepha and his fellow immigrants as well as by his neighbors in Logan Circle—at the time of the novel, still predominantly black. That same need is what brings Judith, a white college professor, and her biracial daughter, Naomi, to the neighborhood.
As they grow closer to Sepha, Judith and Naomi bring out in him a curiosity previously seen only in flashbacks to his childhood, when he looked into buses on the streets of Addis Ababa and longed to be a part of the solidarity that rush hour brought or when he took long walks in the park with his father, starting out together, separating, and then walking the final lap as a pair.
Ironically, even though Sepha admits that his attachment to Judith and Naomi illustrates his fractured connection with his culture and "could have set every gossiping tongue on fire for months," their presence brings him closer to etching his own identity and defining himself beyond his heartbreaking and detached past.
After revolutionaries beat his father to death, Sepha fled Ethiopia, leaving behind a mother and brother. Although he has been in the United States for many years, his native country is still a part of him. His friends Joseph and Kenneth, a Congolese and a Kenyan, represent his attachment to his often tormented African identity—the games the three men play with one another revolve around African dictators and the struggle for freedom. But Joseph, a waiter at an expensive restaurant, and Kenneth, an engineer who puts in long hours at the office, also represent the American dream that Sepha has never quite achieved. We're left to wonder if he truly wanted it in the first place.
To his great credit, Mengestu treats the polarizing subject of gentrification in a way that most of his characters and his peers—Mengestu is in his twenties—are unable to: without judgment. We see the part of Sepha that longs for Judith and wishes she could live without the scrutiny that comes with being an intruder, but we also see the part of him that understands why she can't.
Drawing a comparison between neighborhood teens vandalizing homes of white Logan Circle residents in an effort to defend what they feel is their territory and soldiers—often young—in Addis Ababa defending their homeland, Sepha says: "At least here, in America, they had this corner to live their lives as they pleased, and if a few of them took to throwing bricks through windows, then we could not judge them."
My only gripe with the book is that Sepha seems as broken at the end as he does at the beginning. Perhaps that's one of the things Mengestu considers beautiful: the willingness to accept yourself—and others—as you are.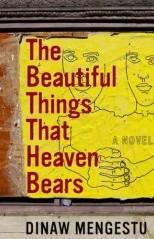 Author:
Dinaw Mengestu
Publisher:
Riverhead Books
Price:
$22.95
Rating:
3.5 Stars