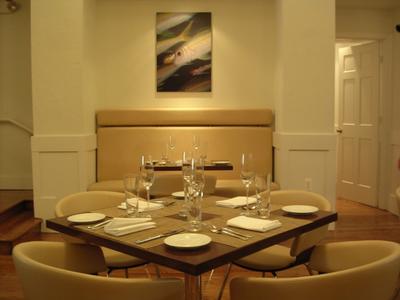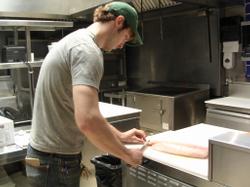 It's 10:30 AM this morning, the day that Georgetown's Hook restaurant officially opens, and chef Barton Seaver is practically jumping up and down in his blue-tiled open kitchen. First day jitters? Nope, he's just slit open a box containing filets of just-caught wahoo, waloo, and blackfin tuna. When he shaves off a slice of raw wahoo and pops it into his mouth, he lets out a high-pitched giggle. "The texture!" he says. "Wow."
Seaver, a DC native who spent the past few years as the chef at Logan Circle hangouts Cafe Saint-Ex and Bar Pilar, is passionate not just about seafood, but about sustainability and conservation. You won't find farm-raised salmon or bluefin tuna on Hook's menu, and if you ask about the famously overfished Chilean seabass, your server will probably try to steer you to sablefish instead. Even the underwater photographs in the narrow dining room, with its deco-mod light fixtures and taupe suede chairs, are being provided by Earth Echo, the marine preservation non-profit run by Jacques Cousteau's grandchildren. And though a pamphlet from the Blue Ocean Institute will come with every check, Seaver doesn't want the place to feel heavily didactic. "It's not like customers are coming here to get their hippie crunch," he says. "But chefs can change your mind with taste."
To that end, the menu features seven varieties of crudo–flights or single tastes of raw fish with oils, gelees, and other accompaniments–an idea inspired by Seaver's favorite New York restaurant, Esca. The kitchen will smoke its own salmon and bacon and cure its own anchovies, and eventually, pastry chef Heather Chittum will be baking bread.
"Our aim is to wow with simplicity instead of big, bold flavors," says Seaver, who brought Josh Whigham from Bar Pilar to serve as chef de cuisine. "No stock, no cream, not much butter." Instead, pureed arugula dresses up a cut of salmon, and halibut is paired with with white bean puree and sunchoke chips (see below for the full menu). If you sit in one of the two large banquettes flanking the kitchen, chances are Seaver will serve you your food himself.
Of his winelist, Seaver laughs, "it's just me and my bubbles." There are four sparklers by the glass–a prosecco, two Champagnes, and a cava–plus 22 in bottles. Tables are pre-set with flutes.
Though Hook is only opening today, Seaver and owner Jonathan Umbel have big plans for the future. They're already making plans for a nearby bakery and fish shack.
Hook, 3241 M St., NW; 202-625-4488; Hookdc.com
Hook Dinner Menu
CRUDO, $3 each or a flight of three $8
Mackerel golden raisin and almond oil
Trout Roe cava, creme fraiche, chive, and brioche
Oyster black pepper and sauternes gelee
Scallop pickled carrots and pine nuts
Salmon pear, extra virgin olive oil
Yellowfin Tuna fine herbs, extra virgin olive oil, Tobago sea salt
Shrimp chocolate-chili oil, lime
APPETIZERS
Local Greens Salad sweet onions, balsamic-red wine vinaigrette, pine nuts $8
Beet Salad Hook's blue cheese, local green beet oil, oregano $9
Mackerel en Escabeche grilled bread, lemon, parsley $9
Hook Caesar marinated anchovies on hot olive oil bread $9
King Salmon Tartar smoked and raw salmon, carrot puree, basil $10
Grilled Shrimp stewed beans, fennel, chile, basil bread crumbs $12
Seared Smoked Salmon molasses oil, herbed goat cheese potato chips, chives $11
Country Ham Tasting housemade biscuits and seasonal accompaniments $10
ENTREES
Sunburst Farms Trout glazed parsnips, bacon bits, sweet garlic puree, parsley $20
Halibut caraway-white bean puree, sunchoke chips, herb salad $22
Scallops white wine-saffron risotto, almond-garlic picatta, chive $23
King Salmon potato-parsnip cake, arugula puree $24
Blackfin Tuna basil, fennel, red onion salad, creme fraiche, potato puree $24
Arctic Char coriander crust, pickled carrots, butter-glazed cabbage $22
Local Grass Fed Strip Steak steel pan greens, currants, almonds, sweet potato $26
Wild Mushroom Risotto carnaroli rice, red wine, fresh herbs $18
DESSERTS $8
Warm Wildflower Honey Madeleines housemade apple butter
Bittersweet Chocolate Tart caramel ice cream, salted cashews
Lingonberry Linzertorte taleggio cheese ice cream, port wine reduction
Carrot Cake creme fraiche sorbet, raisin chutney, candied walnuts
Buttermilk Panna Cotta confit of rhubarb, almond florentine