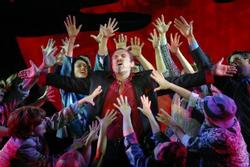 With the oppressive days of a Washington summer coming on, escaping to an air-conditioned theater to take in a few hours of theater is sounding better by the minute. Check out our new reviews of two area plays: The Witches of Eastwick at the Signature Theatre in Arlington; and Souvenir over at the Studio Theatre.
Of Witches, our reviewer says, "The Witches of Eastwick—a musical based on the John Updike novel and the 1987 movie starring Jack Nicholson—is about an intoxicatingly charismatic stranger who shakes up a New England town. The same could be said of actor Marc Kudisch's effect on Signature Theatre's production, which runs until July 15.
As the devious interloper, Darryl Van Horne, Kudisch gives a mesmerizing and spot-on performance in a play that's apparently still something of a work in progress."
About Souvenir, our reviewer notes that "Souvenir begins with J. Fred Shiffman, as pianist/songwriter Cosme McMoon, reminiscing about Florence Foster Jenkins—played with endearing daffiness by Nancy Robinette—an heiress determined to sing regardless of her lack of talent. She sang, croons McMoon, like a prizefighter. Or worse. Was it delusion or dementia, he wonders, that led her to give concerts for charity? No matter."
And as always, read these reviews and more over in our Theater Review section.