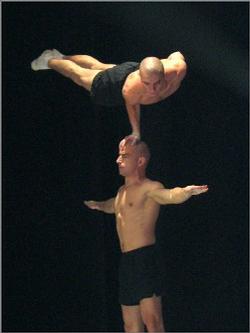 Cirque du Soleil: Delirium played at the Verizon Center last week, transforming the arena into a mystical world with colorful characters and powerful music. The show takes awe-inspiring aerial gymnastics and feats of strength set to classic songs from past Cirque shows and remixes them with urban tribal beats and English lyrics. Delirium's story is set in the hypnotic dreams of a man who watches the scenes play out as he dangles from a hot air balloon above the stage.
Delirium is different from other Cirque shows—its focus is more on the music. Singer Jennifer Hamady calls it a Cirque show "with a rock-concert vibe." The music is loud and pulsing, and the singers and band members are front and center in most of the numbers. Several of the classic Cirque performance acts are there as well. Highlights include two Chinese men in a dramatic aerial rope act, and strongmen who can balance each other on top of their bald heads.
The costumes were spectacular, especially when the lights hit the fabric as the dancers moved around the stage. Particularly impressive were the ancient Greek helmets painted like a sunset and the 80-foot gown worn by one of the singers as she rose from beneath the stage. During the song, the gown was pulled out to create a huge tent for the other dancers and performers.
The performers had the day off last Thursday, and several of them explored Washington. Hamady, a Bethesda native, visited with family and friends in the area. The University of Maryland graduate said she felt nostalgic returning to the Verizon Center, where she sang the National Anthem at many Capitals and Wizards games before she relocated to New York City.