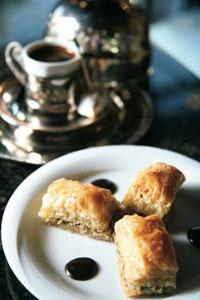 Lemon Tree
1701 Rockville Pike, Suite B-1, Rockville; 301-984-0880.Open daily for breakfast, lunch, and dinner.
Neighborhood: Rockville.
Dress: Casual.
Noise Level: Generally conversation-friendly; families with kids up the hum a bit on weekends.
Best dishes: Su boregi, kefte with bulgur, strudel-style borek, pogaca, soujouk panini, feta panini.
Price range: $4.95 to $13.
Part Turkish coffeehouse, part Mediterranean cafe, part ethnic market, Rockville's Lemon Tree may well be part of the new culinary wave—a place to sip, shop, schmooze, and dine. Sink into a comfortable chair before the fieldstone fireplace with a cup of intense Turkish coffee, and the chaos of Congressional Plaza feels far away.
Though made by machine rather than over an open flame in the traditional long-handled copper pot known as a cezve, the coffee is aromatic and bracing and, covered with an ornate silver dome, more celebratory than just a cup of joe. Likewise, brisk Turkish chai is poured into the sort of small, curvy glasses found in the homes and shops and even on the ferry boats of Istanbul.
Need a place to park the laptop for a couple of hours? Granite tables are strewn throughout the airy, modern space awash in shades of lemon yellow, and there's free wi-fi.
Meanwhile, the traiteur case beckons to takeout customers and eat-in snackers, while the menu is geared for sit-down dining. Either way, flavors are bright and true.
Chef Mine Dilsiz turns out generous plates: well-marinated lamb kebabs; spicy Turkish-style kefte heaped over perfumey bulgur rice with dilled cacik (yogurt); and Turkey's answer to grilled cheese, bringing together the cumin-and-red-pepper-flecked Turkish-style sausage called soujouk and buttery kasseri for a delicious cross-cultural panini. Another take with feta, butter, and tomatoes is equally memorable.
Shredded garlic-walnut chicken tastes much better than its beige appearance suggests; cool and crunchy, it's the ultimate summer dish. Lahmacun, a thin, spicy pizza, gets another layer of flavor with a dab of cacik. Familiar mezze such as stuffed grape leaves and imam bayildi (eggplant) are fine, but there are more interesting morsels here.
Su boregi layers phyllo and cheese for a delicate, buttery mouthful. Also marvelous is a strudel-style cylinder filled with potatoes, cheese, and spicy meat. Pogaca are empanadalike ovals of handmade dough filled with cheese, parsley, and ground beef and studded with black and yellow sesame seeds.
All are smarter picks than the deep-fried cigar borek and cheese-puff borek, which tend toward greasiness.
Likewise, it's best to bypass the Western-style sweets in favor of syrup-soaked tulumba; flaky, melt-in-the-mouth walnut or pistachio baklava; or squares of Turkish delight, a chewy candy made with nuts, cornstarch, and gelatin. Or finish with a steaming cup of sahlep, a creamy drink made from orchid root, topped with cinnamon, and drunk in Turkish tea houses since Ottoman days.
The drinks roster has been limited to espresso, tea, soda, and ayran, a traditional yogurt mixture. A liquor license was expected in late June, meaning that Turkish, Greek, and Lebanese wines will be sold by the glass and bottle.
The shopping at Lemon Tree is as good as the eating. Gourmets will find rose-petal and bergamot-peel preserves and tinned fried eggplant, among other delicacies.
Beyond food and drink is a chic, very unbazaarlike array of Turkish cookbooks, CDs, coffeepots, and gorgeously hued Turgla glassware as well as Turkish lotions, scents, and soaps.
There's even the hard-to-find Bogazici, the lemony cologne that will waft familiar to anyone who's spent time in the city of minarets.