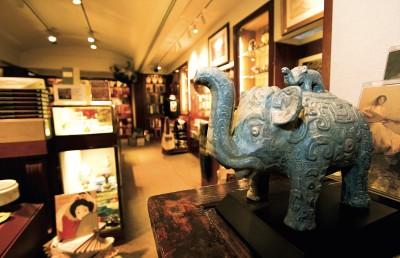 Museum gift shops have ventured so far beyond postcards and posters that you may find yourself spending more time there than in the exhibition halls. Some items from Washington's museum shops are so popular that they've achieved almost iconic status: Has any first-time visitor to the National Air and Space Museum ever left without buying the freeze-dried astronaut food in the museum's three-level store? There are other such treasures for sale all over town—whimsical ceramics, exotic herbs, handcrafted jewelry—that you're not likely to find elsewhere.
National Building Museum
Because this museum celebrates design and architecture, it's fitting that its shop highlights the latest trend: green design. A selection of books includes everything from guides for living green at home (Good Green Kitchens by Jennifer Roberts) to catalogs about the future of eco-friendly architecture (Big & Green: Toward Sustainable Architecture in the 21st Century). There are cutting boards, salad bowls, and kitchen towels made from bamboo, an easily renewable product and a cornerstone of the green-design movement. Made from recycled truck tires, the Feet First Floor Mats ($28) are circular doormats designed to look like manhole covers.
Freer and Sackler Galleries
For the summer exhibition "Encompassing the Globe: Portugal and the World in the 16th and 17th Centuries," the shops have stocked their shelves with nice items from Portugal. Shop manager Martin Bernstein spent time there choosing designer jewelry, crystal bowls, porcelain dinnerware, painted ceramic tiles, embroidered linen tablecloths, and even a line of purses, duffle bags, picture frames, and wallets made of Portuguese cork.
Smithsonian American Art Museum and National Portrait Gallery
The gallery store offers a service called Art on Demand. Through a touch-screen kiosk, you can order customized prints from the museums' collections and current exhibitions—everything from watercolor scenes by Edward Hopper to witty photographs by William Wegman ($80 to $250). It offers convenient framing and delivery, too.
Inspired by the American Art Museum's collection of handcrafted jewelry, the store carries a good selection of "wearable art"—elegant jewelry in sterling silver and stainless steel as well as colorful ceramic and glass bead necklaces and earrings. You'll also find the blue denim work aprons designed by Isaac Mizrahi ($85) that art conservators at the museum wear.
National Museum of Women in the Arts
To celebrate the museum's 20th anniversary, the gift shop is selling 20 items for $20 each. The choices include playful salt-and-pepper sets and a colorful umbrella with caricatures of Mary Cassatt, Berthe Morisot, and Georgia O'Keeffe. Other good finds include flower-shaped bottle stoppers in a rainbow of pastels ($15) and vases made from recycled wine and beer bottles ($60 to $85).
National Museum of Natural History
Kid heaven. Aspiring paleontologists flock to the Dig-a-Dino kits ($12.50 to $20), which come with play dinosaur bones and excavating tools. Love bugs? The Scorpion Sucker lollipops ($3) have real creepy crawlers in the center. The shop by the Mammal Hall on the main floor offers hundreds of stuffed and plastic animals organized by continent; kids will find everything from African lions to Australian koala bears to jaguars and monkeys from South America.
Textile Museum
Though tiny, the shop is a treasure trove of beautiful, unique items from around the world: hand-painted silk scarves by Italian artist Linda Gravina Ridings, exotic beaded jewelry from Nepal and Thailand, bright cotton placemats from Guatemala, and handbags and kimonos made in Japan.
Washington National Cathedral
There are two stores as well as a greenhouse and herb cottage. The main store offers an array of religious jewelry in a variety of styles and prices. An 18-karat gold bangle inscribed with the Lord's Prayer goes for $1,895. The Cathedral's herb cottage carries a large selection of inexpensive jams, spreads, and dips as well as a line of humorous bath products such as a liquid soap for "liars, cheaters, and wrong-doers" and towelettes that "kill sins on contact." In the greenhouse are all kinds of herbs—varieties like basil and curry as well as obscure types like sweet woodruff and patchouli. There's also a wide selection of annuals, perennials, topiaries, and foliage plants.
Newseum
Although not opening until October, the Newseum's four-part gift shop promises to be "a news junkie's dream," says deputy director Susan Bennett. The line of books includes Capture the Moment, a collection of Pulitzer Prize–winning photographs, and President Kennedy Has Been Shot, about the journalists who covered the 1963 assassination. Newseum-produced videos include a documentary about coverage of the civil-rights movement. The museum will continue carrying its popular quote-bearing products, such as coffee cups and T-shirts with phrases like trust me, i'm a reporter. Kids can have their picture taken for an "official" press pass.