Proof, the wine-centric Penn Quarter restaurant that was slated to open its doors back in April, then in May, then in June…, officially opened for dinner last night, following several nights of mock service for family and friends.
A few days ago, as new hires filled out W-2 forms and managers led servers through training, tax attorney- turned-restaurateur Mark Kuller gave us a tour of the place, pointing out every detail like a proud father.
The Enomatic wine system—which Kuller has yet to see in another restaurant—is the focal point of Proof's 22-foot zinc bar, which was hand-crafted in Normandy. It houses 32 wines, which can be poured at the push of a button in two ounce tastes, four ounce full glasses, or eight-and-a-half ounce quartinos. Above the sleek contraption sits four plasma televisions, which scroll through a continuous loop of 300 images from the National Portrait Gallery's collection.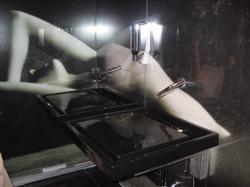 Striking details abound. The ladies' room is done up with splashes of shocking pink; in the mens' room, there's an arty black-and-white nude that takes up an entire wall. Diners will surely notice these touches, but Kuller is quick to point out the more subtle accents, such as an antique Asian chest—"a tribute to our Chinatown location"—and custom-made tables with trays that slide out to hold wine. "The only place I've seen something similar to this is at Craft," Kuller says, noting that Tom Colicchio's New York restaurant provided a lot of design inspiration for Proof: "It's super warm, rich, very inviting." The food draws more influences from A.O.C. in Los Angeles and Avec in Chicago, two of the frequent traveler's favorite restaurants.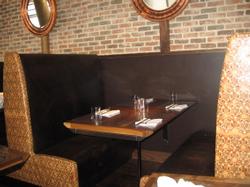 Proof's menu, overseen by Asia Nora alum Haidar Karoum, will offer small and large plates as well as a wide selection of cheeses and charcuterie. When asked their favorite dish, Kuller and sommelier Sebastian Zutant (who has overseen the wine at both Komi and Rasika) both rave about Karoum's sablefish—a hit from his days at Asia Nora that he's tweaked for Proof.
On the charcuterie list, Karoum makes the chicken liver mousse and duck pork terrine in-house, and Pio Tosini prosciutto di Parma is sliced paper-thin on a gleaming Berkel meat slicer from the 1930s. Cheeses come from Cowgirl Creamery around the corner "as much as possible," says Kuller.
Like any good tax lawyer, Kuller sweats every detail. But he says it wasn't his perfectionism that delayed Proof's opening. "It was the construction. And kitchen installation. Equipment was delivered that didn't fit. That set us back quite a bit." But finally last night, this first-time restaurateur welcomed his first paying customers.

Proof, 775 G St. NW; 202-737-7663; Proofdc.com.Open Sunday through Wednesday from 5:30 to 10 PM; Thursday through Saturday from 5:30 to 11 PM. Lunch service is expected to begin in the late summer.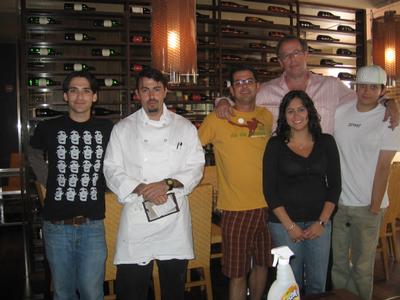 Proof Menu
First
Tuscarora Baby Arugula, diva cucumbers, breakfast radish, sherry vinaigrette 10
Local Green Beans & Tomatoes, aged goat cheese, crispy prosciutto 11

Hamachi Crudo, Hawaiian black salt, olive oil, green papaya, crispy shallots 13
Yellowfin Tuna Tartare, haas avocado, nori tempura, wasabi-soy emulsion 13
Roasted Flatbreads,
Chickpea puree, olives, pickled radish, smoked eggplant emulsion 12
Kenswick Creamery ricotta, olive oil, lemon thyme, baby arugula, sea salt 11
Double smoked Scottish salmon, creme fraiche, caper leaves, red onions 13
Mussel Chowder, saffrom, roasted fennel-piquillo pepper crostini 12
Blue Prawns "a la plancha," tongues of fire beans, parsley vinaigrette 13
Yukon Gold Potato Gnocchi "Persillade," garlic scapes, wild mushrooms 14/21
Braised Meatballs, tomato fondue, goat cheese tortellini, young basil 14
Seared Hudson Valley Foie Gras, pickled black cherries, hazelnut brioche 18
Sauteed Veal Sweetbreads, medjool dates, bacon, spinach, caramel jus 15
Second
Roasted Alaskan Halibut, fennel ragout, tapenade, bouillabaisse jus 24
Glazed Sablefish, potato puree, pea shoots, wild mushrooms, miso emulsion 24
Wild King Salmon, roasted potatoes, chorizo, green beans, sherry emulsion 24
Roasted Duck Breast, toasted farro, mustard greens, pomegranate vinaigrette 25
Crispy Panko Chicken, lemongrass jasmine pilaf, napa slaw, salsa verde 21
Grilled Hanger Steak, sauteed rapini, romesco emulsion, crispy red onions 24
Also
Sauteed Rapini, garlic, chilies, lemon 7
Potato Puree 6
Charcuterie
Prosciutto di Parma, Pio Tostini 12
Jamon Serrano 10
Assorted Fra'mani Artisinal Salume 12
Chicken Liver Mousse, moscato aspic, red onion jam, grilled country bread 12
Speck-Wrapped Burrata, apricots, toasted brioche, extra virgin 12
Duck Pork Terrine, pistachios, green peppercorn mustard, pickled green beans 12
Marcona Almonds, piment d'espellete 5
Marinated Olives 5
Cheese
Cow
Fromage de Meaux, France, soft, milky, velvety
Pleasant Ridge Reserve, Wisconsin, semi-hard, nutty, caramel
Mt. Tam, California, soft, buttery, earthy
Sheep
Manchengo Mandara, Spain, firm, salty, mild
Societe Roquefort, France, semi-firm, balanced
Goat
Cana de Cabra, Spain, semi-soft, smooth, lemony
Bethmale, France, soft, pungent, nutty
Three – 12, Six – 21