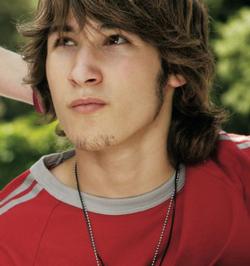 "My friends tell me I'm not a teenager. I like school. I just like studying. I love learning. I'm not decided, but I may want to do engineering physics. I don't want to go out and build bridges; I'd rather do theory-based work. . . .
"I live in an apartment; my friends live in houses. People don't want to come to my house because their places are bigger. For my combination graduation and birthday present, I'm going on a big trip. That's awesome. It'll be my first real vacation where we don't go to see relatives. . . .
"I've never been to a party where there's been drinking or smoking pot. When we did truth or dare, one guy dared the other to run outside naked screaming, 'Penis!'. . .
"I look at porn. I'll do it when my mom goes to bed. She uses Internet Explorer and I use Netscape, so I just clear all the browsing history. . . .
"My girlfriend and I had this ritual in the summer. I'd come over at like 8 in the morning, and she'd leave the basement door unlocked. I'd come in, and then whenever she woke up, she'd see me sleeping next to her. She'd be like, 'Awwwww.'
"My girlfriend wanted to have sex. I was going to wait because I'd just gotten out of health class, where they're telling us about STDs, bad decisions, 'practice abstinence.' So I'm like, 'Fine, I'll wait.' Also, if I got a girl pregnant, I wouldn't quit school, start working, do all that stuff to support the kid, because I want a nice job after a nice education. And that's not fair to whatever girl I get pregnant, so the next logical step would be: Don't have sex.
"So I was going to wait until college. But my girlfriend's like, 'I wanna have sex.' I love my girlfriend. It's hard to say no to her. I spoil her unmercifully. . . .
"I like following rules. If a teacher says, 'Do this,' it's what you're supposed to do. I can accomplish 900 things a day. I just sit down and focus and don't get distracted. The fact that other teens can't just seems ridiculous, especially since teachers ask so little of you. And they want to get the A!"