New York City-based sextet White Rabbits took the Black Cat's main stage Saturday night looking as if they'd walked out of an Abercrombie & Fitch fall catalog—tucked-in shirts, loosened ties, and V-neck cardigans. With the first guitar riff, however, the band morphed from prep-school punks into indie darlings. By the time singer/pianist Steve Patterson began maniacally pounding away at his instrument, they were genuine rock stars.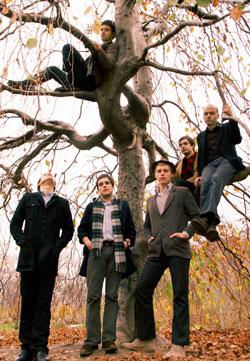 Opening for the better-known Cribs and following a just-barely-okay performance by Takka Takka, the show-stealing White Rabbits surprised the audience with a distinctive sound and look—­a rare find in newer bands. Playing mostly off their debut album, Fort Nightly, with a Bob Dylan cover and a new song sandwiched in between, the band not only captured the shoe-gazing audience's attention, but­—holy hipster!—actually got them to enthusiastically sway along.
"Who are these kids?" an impressed friend whispered as the band seamlessly transitioned from the sinister-sounding "Kid on My Shoulders"—reminiscent of both Interpol and early Walkmen—to lighter but no-less-rocking fare. The band's current single, "The Plot," sounded even better live, thanks to the energy of the band's members, who intermittently switched instruments and at one point incorporated an impromptu drum solo. How refreshing to come across a band whose members look like they actually enjoy each other's company.
Picking favorites between Patterson and Gregory Thomas, who does double duty with guitar and vocals, is hard: In addition to their boyish good looks and stylish, if somewhat contrived, wardrobe, both singers share pleasantly strong voices. Less difficult is predicting the bright future ahead for the band, which—save for the occasional booze-swigging pause—played a tight, frenetic show that left the audience hungry for more.
You can listen to more of the White Rabbits at their Myspace page.