It wasn't your typical orchestra performance at the Kennedy Center Tuesday evening. A stageful of uniformed musicians sat with accordions of all shapes, colors, and sizes resting on their laps. That was the scene at Millennium Stage, where a portion of the 2007 Coupe Mondiale—the world accordion championships—is going on this week.
Last night's performance was by Germany's Akkordeonorchester Hof and the Jerosh Accordion Ochestra from Calgary, Canada. Maureen Jerosh led the Canadian orchestra, which gave an energetic performance—at one point, the musicians began slapping the outside of their accordions, adding a percussion to "Liber Tango." The group also played an original ragtime composition called "The Graceful Ghost" and a piece from Romeo and Juliet.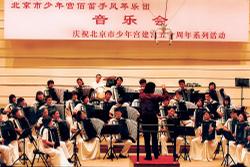 Jerosh admits to being a bit eccentric with her conducting—she doesn't even use a baton. "I don't use a stick anymore," she told the audience. "I hurt people."
Millennium Stage was packed, and audience members gently bopped their heads and tapped their feet to the two groups' upbeat music.
This year is the 60th anniversary of the global competition and the second time it has been held in Washington. (The last time was in 1976.) Categories include the Coupe Mondiale, Junior Coupe Mondiale, International Competition for Piano Accordion, International Competition for Virtuoso Entertainment Music, Junior International Competition for Virtuoso Entertainment Music, and International Competition for Ensemble-Chamber Music. Parts of the competition are being held in Alexandria at the Holiday Inn.
Performances from other accordion groups from all over the world—including the final performance of the first-place winners in each category—will be held at Millennium Stage through Saturday, August 18, starting at 6 each evening. For more information, visit here.
For information on the Coupe Mondiale, visit www.accordions.com/coupeusa.